Kate Willette (author of "Don't Call It A Miracle: The Movement to Cure Spinal Cord Injury) provides a real-time, blow-by-blow of the Symposium's presentations, panel discussion and questions. Here's a little background on Kate and her relationship with the Working 2 Walk Symposium.
 

Welcome

For those who might be new to the world of spinal cord injury or to this conference, consider this a special welcome. I'm here because in 2001 my husband broke his neck; shortly after that we found a website called CareCure, where we became part of a group that was trying to follow the science we hoped would lead to a cure.
 
Okay, we hoped it would lead to something that would help make life a little better by restoring some bit of what the injury stole from us. The problem, as a lot of you will have noticed, is that neuroscience is hard to understand, especially if you're coming at it as a regular person. Today I know a whole lot more than I did ... Read More
Join us for our 13th Annual Science & Advocacy Symposium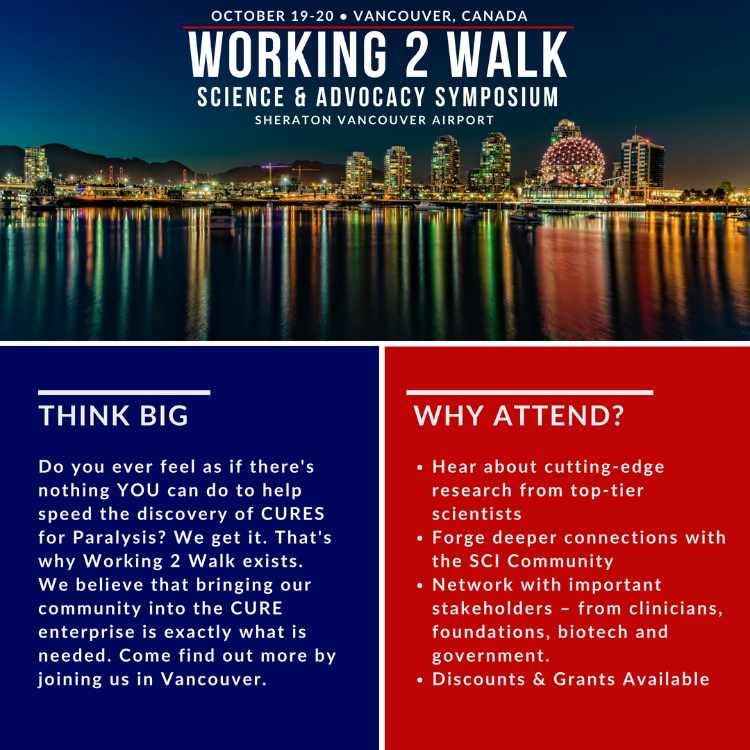 ---
 
On Sunday October 21, 2018, the North American Spinal Cord Injury Consortium (NASCIC) will be hosting its Annual Meeting following the Working 2 Walk Science & Advocacy Symposium in Vancouver, British Columbia. This extraordinary event will bring together delegates from members living with SCI, member organizations and advisory stakeholders. There will be many issues to tackle but the meeting's initial focus is connecting the research community to and with the SCI community.

For more information about the meeting and registration, please visit our website
---
 
Special thanks to the Rick Hansen Institute, this year's Title Sponsor! This is the first time Working 2 Walk has been held outside the United States, and we see it as the next chapter in our ever-expanding mission to unite the SCI Community around the world.
Join the Rick Hansen Institute and these other great organizations.
---
Book your room at the conference hotel - the Sheraton Vancouver Airport - if you haven't already. Then explore helpful information including shuttle and accessible transportation options, parking and local restaurants in the area.

This year's speakers represent a first-class line-up of presenters from across the scientific and advocacy communities. And we've designed an agenda with more room for your input, experience and questions than ever before.
---