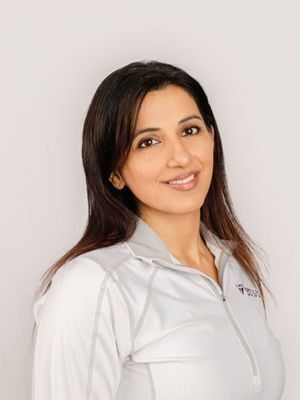 Sakina Valika, PT, DPT, NCS, MSCS
Director and Co-Founder, TRYAbility Neuro Rehab
Abstract
Clinical Application of Epidural Stimulation In Outpatient Rehabilitation
Epidural Stimulation is a novel therapy in spinal cord injury rehabilitation that is on the forefront of neuromodulation.  Research in the past decade has been focused on investigating the use of epidural stimulation for the restoration of neuromuscular and autonomic function below the level of injury in chronic SCI. While the safety of the intervention has been established and efficacy has been reported in various aspects of restoration of movement and other autonomic functions, the translation to clinical practice is still pending.
The FDA has approved the use of Epidural Stimulation for the management of Chronic Regional Pain Syndrome, and several individuals have received the implant for the management of pain and spasticity, and have seen the added benefits of motor return.  TryAbility Neuro Rehabilitation is the only outpatient rehabilitation center in the Midwest that has created and implemented a rehabilitation program for individuals who receive epidural stimulation outside of clinical trials. 
This presentation gives an overview of that program, and of  the network of clinicians who are working diligently to make this a robust platform for clinicians, patients, researchers, and engineers to push scientific discovery forward and encourage faster translation of research into clinical practice. 
Bio
Sakina Valika is a licensed physical therapist and board-certified Neuro Clinical Specialist. She holds a postgraduate clinical doctorate in physical therapy with a focus on neuro-rehabilitation obtained from Rosalind Franklin University. She holds certifications in Locomotor training, Functional Electrical Stimulation, Whole body vibration and Aquatic rehabilitation. She sub-specializes in treating individuals with traumatic and non-traumatic spinal cord injuries with a focus on activity based therapies to maximize neuroplasticity and neuromuscular recovery.
She possesses advanced certifications in gait training individuals with quadriplegia and paraplegia with the ReWalk and the Indego exoskeleton. She is also trying Certified Clinical Instructor Affiliate (CCCE/CI) through the American Physical Therapy Association. She was an educator for the Wayne State University Physical Therapy doctoral program in Detroit, Michigan, as well as other universities that have Physical Therapy Assistant programs in Illinois.
Sakina's clinical expertise lies in using a combination of novel approaches to maximize neuromuscular recovery in individuals suffering from paralysis due to various neurological conditions. She has presented seminars and CEU courses in Activity Based Rehabilitation and the NRS scale because of her unique expertise in this area. She draws upon current research, to incorporate scientifically validated methods into her daily practice. 
---