About U2FP
 
In the spring of 2005, just 6 months after the passing of Christopher Reeve, six "bionic women" organized the first Rally in Washington on behalf of the spinal cord injury community. Three of the women – Pam Bailey, Susan Maus, and Betheny Winkler – had a spinal cord injury or disease themselves. The other three – Faye Armitage, Suzanne Poon, and Marilyn Smith – all had sons with spinal cord injuries. Their collective determination to fight for a cure led to the historic Washington Rally.
Motivated by the knowledge and energy gained at the Rally, Susan, Betheny and Marilyn founded Unite 2 Fight Paralysis (U2FP) in late 2005, and a unique advocacy organization was born. In 2006 U2FP introduced their Annual Science & Advocacy Symposium (originally named "Working 2 Walk"), bringing research scientists, clinicians, investors, SCI survivors and family members together for the first time. This annual conference continues to foster knowledge, collaboration and power for all the stakeholders committed to achieving a cure for spinal cord injury.
Through U2FP's Annual Symposium and our other initiatives, Unite 2 Fight Paralysis has had an enormous impact with and for the SCI Community.  We have promoted:
Increased collaboration among research scientists;
A committed advocacy effort that has led to the passage of the Christopher & Dana Reeve Paralysis Act, as well as SCI Research Grant bills in Minnesota, Washington, Pennsylvania & Ohio
Partnerships between scientists and investors;
Ongoing dialogues between researchers and those living with spinal cord injury;
Individual and collective fundraising campaigns by community members to support research;
Development of a strong core of community advocates who are empowered by their knowledge and support for each other;
Working in partnership with SCI Sucks, in 2012 U2FP created its first Scientific Advisory Board (SAB), comprised of experts in the field of neuroscience who evaluate research targeted toward repair of chronic spinal cord injury. Their reports offer educated, reliable guidance for community members to provide financial support for research. 
The Cure Advocacy Network was established in 2016 following the successful passage of the Minnesota SCI/TBI Research Grant Fund. U2FP supports, trains and leads advocates to initiate state legislative efforts to fund SCI research across the United States. We have initiated these efforts in 7 states (Minnesota, Washington, Pennsylvania, Ohio, Wisconsin, Colorado, and Texas) and have secured funding in 4 so far (Minnesota, Washington, Pennsylvania, Ohio).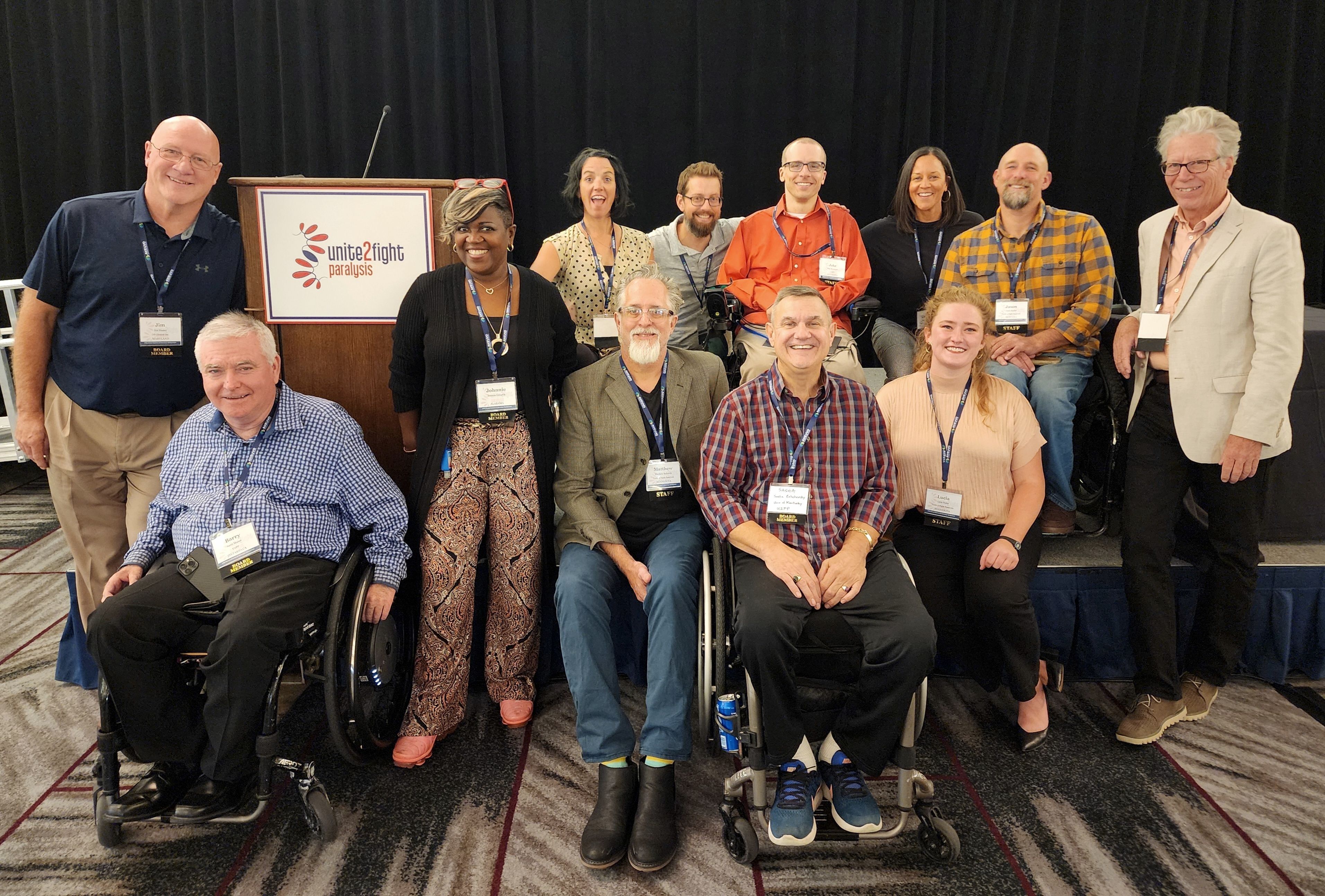 Above: U2FP's Board and Staff at our 2022 Annual Symposium in Salt Lake City, UT. Front row, from left: Jim Hamer; Barry Munro, LLB; Johnnie Edwards, JD; Matthew Rodreick; Sasha Rabchevsky, PhD; Lucia Webb; Sam Maddox. Back row, from left: Quinn Brett, MA; Ryan Romine; Jake Beckstrom, JD; Christel Mitrovitch; Jason Stoffer. (Not pictured: Jordan Bolton, Michael Burris, Kathy Christopherson, Traci Fernandez, and Claudia Garofalo)
Through the years, Unite 2 Fight Paralysis has stayed true to its roots. We are governed and staffed by people who have a personal connection to paralysis; we live with it every day. We don't spend a lot of money on marketing or fundraising or salaries. We focus our time and energy on understanding the science, and bringing key players together who can advance the best therapies as quickly as possible.  We are the Voice of the Cure.
---
Voice of the Cure - A U2FP Vision

What is the Cure - Defining the Vision
Unite 2 Fight Paralysis uses the tagline, "Voice of the Cure". What does the word "cure" mean to us? Our vision of a cure includes:
Restoration of one's fully functional and healthy body, including relief from pain and spasms, return of bowel, bladder and sexual function, and recovery of normal sensation in addition to motor control. Once cured a person should be able to live independently, free of assistive devices, caregivers, catheters, etc.
 
Belief that curative therapies will come in stages, and support for advancing research into each stage as it becomes more promising.
 
Understanding that recovery will come through combinations of therapies that may vary just as much as the nature of spinal cord injuries. To this end we promote and support collaborations amongst scientists, investors, advocates, clinicians, and regulatory agencies.
 
Commitment over the long term to successive stages of recovery by helping to build the capacity necessary to optimize that recovery while refusing to be satisfied until all bodily functions are restored.

What is the Cure - Navigating the Vision
U2FP fights for a cure for the invisible ones, the severely disabled, the families who support them, and everyone who believes that it's possible, and more importantly urgent, to restore health and opportunity to these compromised lives. A cure does not mean that a person receives a "magic potion" injection one day and is up and running around the next. We know that after any kind of intervention to stimulate regeneration, extensive rehabilitation will be required to properly connect the motor and sensory pathways and restore function. Let us never forget about those with complete injuries and little or no return, those who cannot use their hands or live independently, those who have no family support and are shuffled off to nursing homes, those on ventilators who require 24/7 assistance, those who do not have the time and/or money to spend the hours necessary to maximize recovery. We don't want to start a "pity party", but we do want to increase the awareness of these realities by bringing our community into effective relationships with critical decision-makers. We believe this is the best tactic to demonstrate:
that paralysis is a progressive and burdensome condition,
that research science shows great promise and needs financial support,
that restoring function will save millions of dollars for SCI survivors, their families, and society.
Annual Reports & Financials
U2FP is a non-profit, 501c3 organization, and donations are deductible to the full extent of the law. Our Tax ID # is 20-3528000.