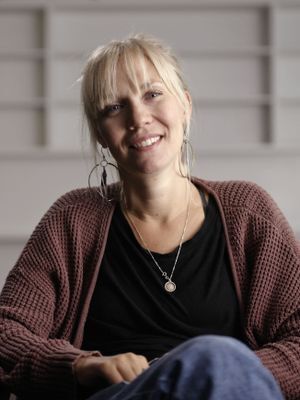 Kelsey Peterson
Dancer, Choreographer; Writer and Director/Producer - Move Me
Abstract
Documentary Film Screening: Move Me
At 27, Kelsey Peterson dove into Lake Superior, off the shores of Wisconsin, and emerged paralyzed. Now, the former dancer struggles to redefine who she is while adapting to life with a disability. At the intersection of acceptance and hope, Kelsey unexpectedly finds herself facing an opportunity to dance again, showing her a new path toward acceptance, all the while grappling with a decision to participate in a cutting-edge clinical trial that could bring her much-desired change — forcing her to evaluate the possibilities of her recovery, body and spirit.
In Move Me, a first-time filmmaker with a disability simultaneously takes the reins behind the scenes, while revealing her inner revolution through raw storytelling onscreen.

Bio
Kelsey is a dancer, writer and filmmaker. She finds that her choreographic background lends to the art of storytelling, which she leans on in her documentary film, Move Me, airing on PBS this fall. She is a resident writer for Unite 2 Fight Paralysis, and her work has also been featured in New Mobility Magazine. Kelsey hopes to continue using storytelling — in its many artistic forms — as a vehicle for healing and change.
---