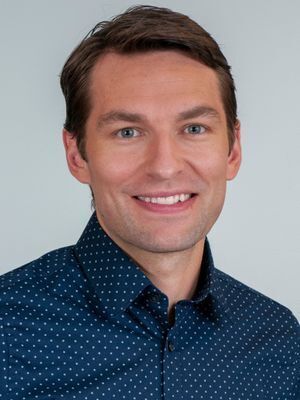 Ryan Solinsky, MD
Spinal Cord Injury Physician-Scientist, Mayo Clinic
Abstract
Autonomic Dysfunction after Spinal Cord Injury: Characterizing the Deficits and Understanding the Effects of Spinal Cord Stimulation
The autonomic nervous system regulates background functions like blood flow/pressure, bladder, and bowel control. While these aren't the typical visible manifestations of paralysis, we all know how critical these functions are. This talk will highlight how dysfunction in the autonomic nervous system contributes to complications like low and high blood pressure after spinal cord injury. We will then discuss results of an NIH funded study using a battery of physiology lab tests to characterize how the injured spinal cord can regulate excitation and inhibition of autonomic signals within people with spinal cord injury.  Expectedly, some individuals have very little autonomic dysfunction, while others have significant issues stemming from this. As patterns of autonomic dysfunction have emerged from these studies, we will show early results of potential linkages with certain patterns of autonomic dysfunction and individuals who appear more predisposed to some medical complications. Finally, we will discuss results from an NIH funded study, applying our lab-based autonomic characterization to understand what is happening to the autonomic nervous system during spinal cord stimulation.

Bio
Dr. Solinsky is a spinal cord injury medicine physician-scientist at Mayo Clinic in Rochester, MN. In addition to providing medical care for outpatients with SCI, a significant portion of his time is spent in research. His studies have focused on understanding and managing autonomic dysreflexia and developing SCI-specific testing protocols to characterize how autonomically (in)complete an injury may be.
---