Episode 45: Double Team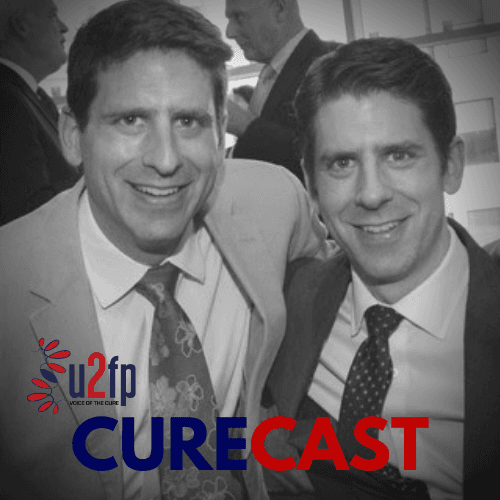 Guests: Jason & David Carmel
In our latest CureCast interview, Jason Stoffer and Matthew Rodreick speak with long time activists and twins, Jason and David Carmel. David was injured over two decades ago while vacationing in Mexico. He has gone on to a successful career in biotech. Jason is a PhD / MD researcher at Columbia University who researches activity based therapies and electrical stimulation. Their unique connection as twins weaves in and through our conversation for a unique perspective on their journey, work and activism after SCI. 
Listen on: Spotify | Apple Podcasts | Soundcloud
Bumper music: Rest My Soul by Matthew Rodreick
Guest Bios
David A. Carmel is the senior vice president of public affairs and communications of eGenesis and is responsible for external outreach efforts to advocacy organizations, professional societies, policy makers, and investors. Prior to joining eGenesis, Mr. Carmel served as vice president in medical affairs and strategic alliances at Atara Biotherapeutics, where he helped to advance tab-cel® (tabelecleucel), which is in Phase 3 development for post-transplant lymphoproliferative disease (PTLD), an aggressive cancer that affects patients who have received a solid organ or bone marrow transplant. Earlier, he was co-founder and principal of Carmel Asset Management, an investment partnership where he was responsible for life science investments. Previously, he held positions in public affairs and business development for StemCyte, Pfizer, and Johnson & Johnson. Mr. Carmel served as the White House Fellow for the Secretary of the Treasury from 2002 to 2003.
Mr. Carmel was appointed by Governor Andrew Cuomo to the New York Life Science Advisory Board. He is a founding board member of the New York Stem Cell Foundation, a former member of the New York State Spinal Cord Injury Research Board, and a Henry Crown Fellow of the Aspen Institute. He worked on the California Stem Cell Research and Cures Initiative, which provided $3 billion to fund stem cell research. He earned a bachelor's degree, magna cum laude, from Harvard College and an MBA with a certificate in health care from the Stanford Graduate School of Business.
---
Jason B. Carmel (M.D., Ph.D.) received his B.A. in Human Biology from Stanford University and his MD from Columbia University's College of Physicians and Surgeons. While in medical school, his identical twin brother suffered a spinal cord injury. This lead him to pursue basic science research. He completed a PhD with Wise Young, MD, PhD at Rutgers University. He then finished his medical training in Child Neurology at Columbia and is Board certified in this area. He completed a postdoctoral fellowship with Jack Martin, PhD, in neural control of movement.
Dr. Carmel's laboratory work at Columbia University Irving Medical Center is focused on the recovery of movement after injury to the central nervous system. The laboratory focuses on how the brain and spinal cord partner for movement through their motor and sensory connections. The laboratory is dedicated to repairing brain-spinal cord connections using activity-based therapies, including electrical stimulation and motor training. The approach capitalizes on the fact that most brain and spinal injuries preserve some of these connections. Spared connections become more numerous and stronger when activity is applied. This approach has shown promise in rat models of cerebral palsy, stroke, and spinal cord injury.
Dr. Carmel sees patients with cerebral palsy and other neurological conditions affecting movement. The target neurological impairments include hemiplegia and spastic diplegia. Combining laboratory science and clinical medicine, he seeks to restore function through repair of the nervous system.
-Weinberg Family Associate Professor of Neurology (in Orthopedics)
-Executive Director, Weinberg Family Cerebral Palsy Center
-Director, Movement Recovery Laboratory
-Columbia University Vagelos College of Physicians and Surgeons
-Columbia Translational Neuroscience Initiative Scholar