'The Science of Orgasm'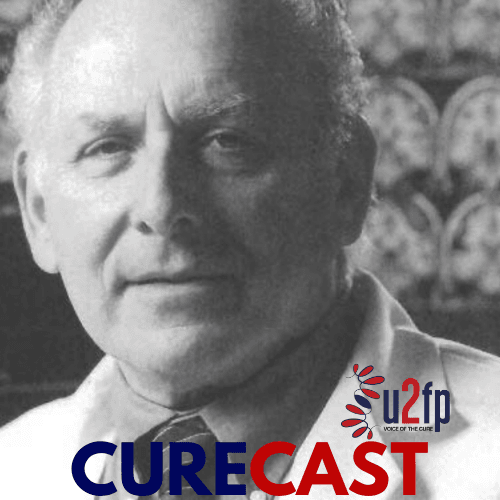 Guest: Barry Komisaruk
Jason and Matthew interview Barry Komisaruk (PhD), Neurophysiologist from the Psychology Department at Rutgers University. Barry has been researching sexuality for over 50 years and is maybe best known for the seminal work: The Science of Orgasm. We talk about the history of his research and discoveries, the historical challenges around sexual function research and ideas for how to further this area of research to benefit folks with SCI. Pay particular attention to the latter half of the podcast if you're interested in participating in a study idea that we landed on collectively. If it piques your interest, send us a message at curecast@u2fp.org and we'll connect you.
Listen on: Spotify | Apple Podcasts | Soundcloud
Guest Bio
Barry R. Komisaruk received a B.S. in biology at The City University of New York and Ph.D. in psychobiology from Rutgers University. He was a National Institute of Mental Health postdoctoral fellow in neuroendocrinology at the Brain Research Institute, University of California at Los Angeles. Joining the Rutgers-Newark faculty in 1966, Komisaruk was a professor in the Institute of Animal Behavior and Department of Zoology. He is now Distinguished Professor in the Psychology Department, director of the Minority Biomedical Research Support Program, and former associate dean of the Graduate School. With a penchant for finding new research avenues to explore, Komisaruk received a Board of Trustees of Rutgers University Excellence in Research award and the Hugo G. Beigel Research Award of the Society for the Scientific Study of Sexuality. His major research interests include: functional neuroimaging of genital sensory response; neurophysiology, neuropharmacology and neuroendocrinology of reproductive behavior; and neural control of autonomic genital function. He is senior author of The Science of Orgasm, a comprehensive look at the biology and neuroscience of orgasm, published by The Johns Hopkins University Press, as well as The Orgasm Answer Guide, a general readership book from the same publisher. He has published more than 155 academic journal articles and chapters.
Selected Publications
(Komisaruk and co-authors)
Books
The Orgasm Answer Guide, The Johns Hopkins University Press (2009)
The Science of Orgasm, The Johns Hopkins University Press (2006)
Book chapters and periodicals
Sexual Pleasure, Pleasures of the Brain: Neural Bases of Sensory Pleasure, Oxford University Press (2008)
Orgasm, The Psychologist, Vol .21 Neurological Impairment of Sexuality in Men and Women, Sexual Health. Chapter 13, Vol. 2 (2006)
Functional MRI of the brain during orgasm in women, Annual Review of Sex Research, Vol. 16 (2005)
Brain activity imaging during sexual response in women with spinal cord injury, Biological Substrates of Human Sexuality, American Psychological Association (2005)
Brain activation during vaginocervical self-stimulation and orgasm in women with complete spinal cord injury: fMRI evidence of mediation by the vagus nerves Brain Research, Vol. 1024 (2004)
Select Media Coverage
Women do experience orgasms in giving birth, study suggests, GMA News-June 12, 2013
Orgasms During Birth Are Real, Study Suggests, LiveScience.com- -May 31, 2013
Unexcited? There May Be a Pill for That, New York Times - May 22, 2013
First 3D Movie of Orgasm in the Female Brain, Time - Dec. 1, 2011
Does Brain Function Differently During Sex Than During..., ‎Opposing Views - May 22, 2011
Rutgers lab studies female orgasm through brain imaging, nj.com - Apr 20, 2010
What Do Women Want? - Discovering What Ignites Female... ‎New York Times - Jan 22, 2009
The McGill Daily » Sex tames pain ‎Mcgill Daily - Oct 6, 2008
The Science of Orgasm, ‎Journal of American Medical Association - Feb 13, 2008
Access : The pleasure principle, Nature.com - Feb 22, 2007
The Science of Orgasm, by Barry Komisaruk ‎New Scientist - Nov 18, 2006
Health | Paralyzed women rediscover orgasms ‎Seattle Times - Nov 23, 2005
Solving the Brain, The New York Times – Nov. 10, 2003
EDITORIAL: Science and the female orgasm,‎ Mail & Guardian Online - Apr 11, 1997
Orgasm-making Chemical Isolated, ‎Rochester Sentinel - Apr 7, 1997
Experts Find Key Orgasm Chemical The Nation – Apr. 8, 1997
Rutgers Researchers Believe They've Isolated Orgasm... ‎Daily News - Apr 7, 1997
Orgasm Pill? A Big NO ‎Washington Post - Apr 21, 1997
Medical Milestones Sydney Morning Herald - Dec 24, 1984