Episode 57: Reverse Brain Drain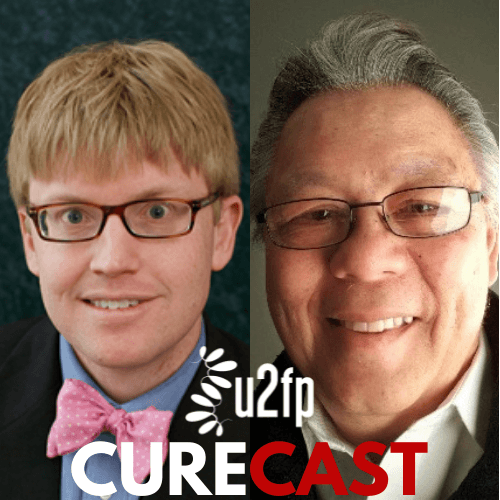 Guests: Andrew Grande and Walter Low
In our latest episode, Jason and Matthew talk with Andrew Grande (MD, FAHA, FAANS) and Walter Low (PhD) - two brain specialists at the University of Minnesota who focus on neuroregenerative and neurorestorative therapies for various brain disorders, including traumatic brain injury.
Why are we talking to brain specialists about TBI? Because in our efforts to pass an SCI funding bill in Texas, we came across a broad coalition of brain specialists (called the Texas Brain Institute) who are trying to pass a multi-billion dollar bill in brain research.
And so we wanted to explore the overlaps in brain research and SCI research. Specifically, we were curious to learn about where there might be opportunities for collaboration between the two disciplines. Could more intentional alignment and cooperation deliver better strategies and harness larger investments that would benefit brain and CNS disorders as well as spinal cord injury? Finally, we discuss the successful collaborations that have been created through the MN SCI/TBI Research Grant Program.
Listen on: Spotify | Apple Podcasts | Soundcloud
Guest Bios
Walter C. Low, PhD is a Professor in the Department of Neurosurgery and the Stem Cell Institute at the University of Minnesota.  His research is focused on the development of stem cell and gene engineering technologies for the repair of the brain and spinal cord.  His work involves the development of gene therapies to express normal genes and their corresponding proteins to restore enzymes in the brain and restore metabolic pathways involved in learning and memory.  He has adapted his gene therapy approaches to insert genes to activate molecular signaling pathways involved in neuronal development in the brain and spinal cord to repair neuronal connections damaged as a result of traumatic injuries.
 
Andrew Grande, MD, FAHA, FAANS, is a vascular neurosurgeon and physician scientist at the University of Minnesota with a strong interest in cerebrovascular disease. His clinical practice is focused on neurosurgical and endovascular treatment of brain aneurysms. He graduated from St. Olaf College (Northfield, MN) with a BA in chemistry and then attended the University of Minnesota Medical School. Dr. Grande completed his neurosurgical training at the Mayfield Clinic and University of Cincinnati. During his training, he worked very closely with Dr. John Tew, learning the nuances of trigeminal neuralgia treatment, including both microvascular decompression and radiofrequency ablation. He then went on to complete a fellowship with Mario Zuccarello, Andrew Ringer and Todd Abruzzo at the University of Cincinnati in both endovascular and cerebrovascular neurosurgery. During this time, Dr. Grande was exposed to intracranial bypass surgery for treating moyamoya disease and to cutting-edge endovascular treatments such as the use of Onyx glue for treating cerebral aneurysms.
During his residency and continuing into his fellowship, Dr. Grande was involved in stem cell research with Dr. Masato Nakafuku at Cincinnati Children's Hospital. Professor Nakafuku was one of the world's first to demonstrate neurogenesis in the hippocampus following stroke and he remains internationally recognized for his work with adult neurogenesis. In Nakafuku's laboratory, Grande's research focused primarily on reprogramming cells within the cerebral cortex to form neurons following stroke.
In 2010, Grande was the recipient of the William P. Van Wagenen Fellowship from the American Association of Neurological Surgeons. As a Van Wagenen Fellow, he traveled to Munich, Germany, where he completed a post-doctoral fellowship in the laboratory of Dr. Magdalena Gotz at Ludwig-Maximilians-Universitat. There he focused his research on identifying afferent connections to new neurons generated in the rodent cortex following a cortical layer specific injury.
Dr. Grande joined the University of Minnesota in 2011. His clinical interests are in treating cerebral vascular diseases, using either open vascular or endovascular techniques. He has specific interests in treating complex aneurysms, moyamoya disease, and trigeminal neuralgia.
Dr. Grande also directs the Earl Grande, Vel, V. Richard Zerling Stroke, Stem Cell and Neuroimaging Laboratory at the University of Minnesota. His research is focused on translating stem cell therapies for stroke from the bench to the bedside. Ongoing studies include exogenous cord blood stem cell transplantation for neuroprotection, reprogramming reactive astrocytes to form neurons, and characterizing normal adult neural stem cells found in the brains of humans and other large animals.
His long-term research interest is to understand the mechanisms of cerebrovascular disease, including brain aneurysms and stroke and to develop therapies to prevent the development of disease or regenerate tissue after brain injury from either ischemic or hemorrhagic stroke.
Social Media
Andrew Grande
Walter Low's Select Publications
The following publications have received more than 15,967 citations in the scientific literature. Seventeen articles have received more than 100 citations. The h-index for the scientific impact of these publications is 54 and is ranked above the 95th percentile among faculty in academic neurosurgery departments in the United States. Here is a selection:
Laoharawee K, Podetz-Pedersen K, Nguyen T, Fairbanks C, Low WC, Kozarsky K, and McIvor RS, Prevention of neurocognitive deficiency in mucopolysaccharidosis type II mice by CNS-directed AAV9-mediated sulfatase gene transfer, Human Gene Therapy, ePub ahead of print (2017)
 
Belur LR, Temme A, Podetz-Pedersen KM, Riedl M, Vulchanova L, Robinson N, Hanson LR, Kozarsky K, Frey WH, Low WC, and McIvor RS, Intranasal AAV mediated gene delivery and expression of human iduronidase in the CNS: A non-invasive and effective approach for prevention of neurologic disease in mucopolysaccharidosis type I. Human Gene Therapy, ePub ahead of print (2017)
 
Gardeck AM, Sheehan J, and Low WC, Immune and viral therapies for brain cancer. Expert Opinion on Biological Therapies 17:457-474 (2017)
 
Lehto LJ, Slopsema JP, Johnson MD, Shatillo A, Teplitzky B, Utecht L, Adriany G, Mangia S, Sierra A, Low WC, Grohn O, and Machaeli S, Orientation selective deep brain stimulation, Journal of Neural Engineering, 14:016016 ePub ahead of print (2017)
 
Parry GJ, Rodrigues CMP, Low WC, Hilbert SJ, and Steer CJ, Ursodeoxycholic acid may slow progression of amyotrophic later sclerosis. Annals of Neurodegenerative Disorders ePub ahead of print (2016).
 
Stone LLH, Xiao F, Rotshafer J, Juliano M, Sanberg CD, Sanberg PR, Kuzmin-Nichol N, Grande A, Cheeran MC, and Low WC. Amelioration of ischemic brain injury in rats with human umbilical cord blood stem cells: Mechanisms of action, Cell Transplantation, 25:1473-1488 (2016).
 
Terzic D, Maxon JR, Krevitt L, DiBartolomeo, Goyal T, Dutton JR, Low WC, and Parr AM, Directed differentiation of oligodendrocyte progenitor cells from mouse induced pluripotent stem cells, Cell Transplantation, 25:411-424 (2016).
 
Satzer, D, Miller, C, Maxon J, Dibartolomeo C, Dutton JR, Low WC, and Parr AM, T cell deficiency in spinal cord injury – altered locomotor recovery and whole-genome transcriptional analysis, BMC Neuroscience16:74 Epub ahead of print (2015).
 
Divani AA, Murphy AJ, Meints J, Sadeghi-Bzargani H, Nordberg J, Monga M, Low WC, Bhatia PM, Beilman GJ, and SantaCruz KS, A novel preclinical model of moderate primary blast-induced traumatic brain injury, Journal of Neurotrauma, 32:1109-1116 (2015).
 
Satzer D, DiBartolomeao C, Ritchie MM, Storino C, Idiyatullin D, Mangia S, Michaeli S, Parr AM, and Low WC, Assessment of dysmyelination with RAFF MRI – application to murine MPS I, PLoS ONE 10:e0116788 (2015).

Books
Low WC and CM Verfaillie, Editors, Stem Cells and Regenerative Medicine, World Science Press, Hakensack, NJ, (2008)
 
Low, W.C., Analysis of Neurophysiological Plasticity within the Hippocampal Formation, University Microfilms, Xerox Corporation, Ann Arbor, Michigan (1979).

Chapters in Books (Selected)
Stone LL, Low WC, and Grande A. Stem cell therapies for ischemic stroke, in Stem Cells in Neurogenerative Disease, Ed. by L Lescaudron, J Rossignol, and GL Dunbar, CRC Press, London, UK, pgs. 142-156, (2014).
 
Keene CD, Ortiz-Gonzalez XR, Jiang Y, Verfaillie CM, and Low WC, Therapeutic application of bone marrow- derived stem cells in neuralgic injury and disease. In: Cell Therapies for Central Nervous System Disorders, Ed. by P.R. Sanberg, Humana Press (2005).
 
Triarhou, L.C., W.C. Low, and B. Ghetti, Neurological mutant mice as models in neural transplantation, In: Intracerebral Transplantation, Ed. by Q.Y. Xu and S. S Jiao, The Science Press, Beijing, pp. 66-72 (2000).
 
Low, W.C. and Y.J. Li, Neural transplantation of dopamine containing tissue into the striatum of animals with nigrostriatal dopamine deficits, In: Intracerebral Transplantation, Ed. by Q.Y. Xu and S. S Jiao, The Science Press, Beijing, pp. 78-85 (2000).
 
Low, W.C. and Y.J. Li, Intrahippocampal grafts of cholinergic neurons: Survival, innervation, and functional restoration, In: Intracerebral Transplantation, Ed. by Q.Y. Xu and S. S Jiao, The Science Press, Beijing, pp. 108-113 (2000).
Andrew Grande's Peer-Reviewed Publications (10 most recent)
Impact Analytics: h-Index: 9; h(fl)-Index: 9; Total Publications: 30; First/Last Author Publications: 12; Total Citations: 330; First/Last Author Citations
Minimally-invasive tubular retraction ports for intracranial neurosurgery: History and future perspectives. Larson AS, Zuccarello M, Grande AW. J Clin Neurosci. 2021 Jul;89:97-102. doi: 10.1016/j.jocn.2021.04.035. Epub 2021 May 6. PMID: 34119302
Darrow DP, Spano A, Grande A. The Potential for Undue Patient Exposures during the Use of Telementoring Technology. Cureus 2020, 8 April. 12(4): e7594, doi 107759/cureus.7594.
Boltza J, Modo MM, Mays RW, Taguchi A, Jolkkonen J, Savitz S, (STEPS 4 participants Bates D, Bath P, Carmichael ST, Cox Jr CS, Daadi MM, Tejedo ED, Grande AW, Gutiérrez Fernández María , Hematti P, Hess D, Huang DY, Kokaia Z, Kuroda S, Moniche FP, Muir K, Olson S, Rosado de Castro PH, Sinden J, Satani N, Shichinohe H, Steinberg GK, Walczak P, Wechsler L, West F, Vahidy F, Vawter DE, Yavagal DR, Yang B, Zrinzo L). Stem Cells as an Emerging Paradigm in Stroke 4.:Advancing and Accelerating Preclinical Research. Stroke. 2019 50:3299‐3306. PMID 31658004. Cited: NA; Impact factor: 6.032
Sude A, Nixdorf DR, Grande AW. Human papillomavirus – positive oropharyngeal squamous cell carcinoma manifesting as glossopharyngeal neuralgia. Journal of the American Dental Association. 2019 150(12) 1059-1061. Cited: 0; Impact Factor 2.786
Sorenson TJ, Mehta T, Grande AW. Which Aneurysm Ruptured? Journal of Clinical and Medical Images. 2019, Sept 15 2 (2). Cited: 0; Impact Factor 1.820
Chrostek MR, Fellows EG, Guo WL, Swanson WJ, Crane AT, Cheeran MC, Low WC, Grande AW. Efficacy of Cell-Based Therapies for Traumatic Brain Injuries. Brain Sciences. 2019; Sep‐Oct; 28(9‐10): 1091‐1105. PMID 31426665. Cited: 0; Impact Factor: 3.477
Crane AT, Aravalli RN, Asakura A, Grande AW, Krishna VD, Carlson DF, Cheeran MCJ, Danczyk G, Dutton JR, Hackett PB, Hu WS, Li L, Lu WC, Miller ZD, O'Brien TD, Panoskaltsis-Mortari A, Parr AM, Pearce C, Ruiz-Estevez M, Shiao M, Sipe CJ, Toman NG, Joseph J, Xie1 H, Steer CJ, Low WC. Interspecies Organogenesis for Human Transplantation. Cell Transplantation2019; Sep‐Oct; 28(9‐10): 1091‐1105. PMID 31426665. Cited: 0; Impact Factor: 3.477
Blackburn, SL, Grande AW, Swisher CB, Hauck EF, Jagadeesan B, Provencio JJ. Prospective Trial of Cerebrospinal Fluid Filtration After Aneuyrsmal Subachnoic Hemorrhage via Lumber Catheter. Stroke. 2019, Sept, 2558‐2561. DOI: 10.1161/STROKEAHA.119.025399. Cited 1; Impact Factor 6.032
Toman N, Grande A, Low W. Neural Repair in Stroke. Cell Transplantation. 2019, Jul 29: 963689719863784. PMID 31353939. Cited: 0; Impact Factor: 2.885. Role: Concept, design, manuscript preparation, editing, review.
Mehta T, Patel S, Male S, Zhang A, Khan A, Narwal P, Grande A, Tummala R, Jagadeesan Bharathi. Readmission Trends Related to Unruptured Intracranial Aneurysm Treatment. Stroke. 2019; 50.10.1161/str.50.suppl_1.WP120. Cited: 0; Impact Factor: 6.032. Role: Manuscript preparation, editing, review.