Acute Injury Inquiry (Episode 82)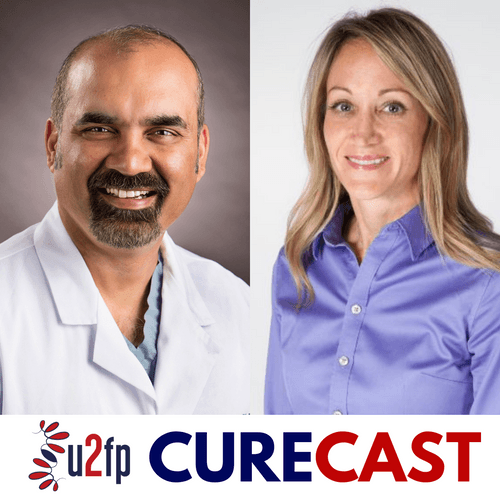 Guests: Shekar Kurpad & Candy Tefertiller
CureCast co-host Jason Stoffer was injured 5 ½ years ago. Earlier this year, his friend Lewis Johnson sustained a spinal cord injury. The similarities are uncanny: they were both in the same career field; they both went to the same inpatient hospital; and they both attended the same inpatient rehab facility. For Jason, the big question on the table is this: What has changed in 5 years? What progress are we making? Are newly injured folks getting the same message Jason got from his clinicians? We asked today's guests to give us some high level answers to those questions. Dr. Shekar Kurpad is Professor and Chair of Neurosurgery at the Medical College of Wisconsin and Candy Tefertiller is the Executive Director of Research and Evaluation at Craig Hospital in Denver.
As always, please share your thoughts with us via email at curecast@u2fp.org. Thanks for listening! 
Listen on: Spotify | Apple Podcasts | Soundcloud
Bumper music: Dig a Hole by Freaque
Guest Bios
Candy Tefertiller, PhD, PT, DPT, NCS is Director of Research and Evaluation at Craig Hospital. She received a degree in Biology from Mount Olive College and a Master's in Physical Therapy from East Carolina University. She completed a Doctorate of Physical Therapy degree from Rocky Mountain Health Care University and completed her PhD in Clinical Sciences at the University of Colorado – Anschutz Medical Campus. Dr. Tefertiller has worked in the field of neurological rehabilitation since 2000 and she has focused much of her career on interventions, program development, and research promoting recovery after neurologic injury. Dr. Tefertiller is a member of the American Physical Therapy Association (APTA) and the Neurologic Section of APTA. She is Vice-Chair of the Education Committee of ASIA.
---
Shekar N. Kurpad, MD, PhD, is the Sanford J. Larson Professor of Neurosurgery, Chairman of the Department of Neurological Surgery, Medical Director of the Spinal Cord Injury Center, and Co-Director of the Center for Neurotrauma Research (CNTR) at the Medical College of Wisconsin.
Dr. Kurpad's clinical practice focuses on the surgical treatment of patients with degenerative and traumatic conditions of the spine and spinal cord, as well as benign and malignant tumors of the spinal column and spinal cord. His laboratory currently focuses on the development of novel MRI-based imaging biomarkers for spinal cord injury, as well as cervical spondylotic myelopathy. He has been involved in Spinal Cord Injury (SCI) research since 2001, after being awarded the Van Wagenen Fellowship by the American Association of Neurological Surgeons.

His experience in this field of research includes earlier work using stem cells for regeneration of the spinal cord begun as a postdoctoral fellow at the Karolinska Institute in Stockholm, Sweden; the establishment of a Spinal Cord Injury research laboratory at the Medical College of Wisconsin (MCW) from 2002 (endowed since 2010); funding to study the mechanisms of allodynia after stem cell transplantations into the injured spinal cord and imaging of SCI using diffusion tensor imaging (DTI)

Dr. Kurpad has also served as a consultant for several imaging start-up companies based in the Milwaukee area and awarded NIH SBIR funding as Principal Investigator for these efforts. He is the clinical PI at MCW for all Phase I-III SCI trials in patients (eight trials since 2008, encompassing both neuroprotective and neural regeneration strategies) and has participated as a member of the National SCI Consortium for Translational Therapies for SCI. He is interested in translating laboratory findings rapidly to patient applications and in establishing new and innovative diagnostic paradigms for patients with spinal disorders using novel MRIbased imaging technology. He has a diverse grant portfolio from the NIH and VA, as well as foundation support. Dr. Kurpad is also active in organized neurosurgery, having served on the Executive Committee of the Congress of Neurological Surgeons as Chair of its International Division, the Joint Section on Disorders of Spine and Peripheral Nerves since 2016, and the AANS/CNS Joint Section on Neurotrauma and Critical Care since 2013.
In January 2022, Dr. Kurpad was named the Founding Director of the Wisconsin Institute of Neuroscience, a partnership between the Medical College of Wisconsin, Froedtert Hospital, Children's Wisconsin, and the Clement J. Zablocki VA Medical Center.
---
Acknowledgments
This podcast is made possible by a grant from the Christopher & Dana Reeve Foundation's National Paralysis Resource Center. The information provided and opinions expressed in these podcasts do not necessarily reflect the views of the Christopher & Dana Reeve Foundation. For more information about the Foundation's National Paralysis Resource Center visit https://www.christopherreeve.org/living-with-paralysis