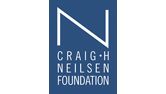 This year's Visionary Sponsor - and a long-time Working 2 Walk supporter - is the Craig H. Neilsen Foundation. We are extremely grateful for the Nielsen Foundation's support for our Symposium and especially their support for our Travel Grant Scholarships.
Established by Craig H. Neilsen in 2002 as a private foundation, the Craig H. Neilsen Foundation is dedicated to supporting both programs and scientific research to improve the quality of life for those affected by and living with spinal cord injury.
Mr. Neilsen was a prominent real estate developer who founded the casino gaming company, Ameristar Casinos, Inc. He was an entrepreneur with incredible vision who took his company public and led it from its initial market capitalization of $27 million to $1.4 billion at the time of his death in 2006. 
"My dad was the epitome of tireless perseverance," says Ray Neilsen, Chairman of the Board. "His injury gave him laser-focus, and he became even more successful after the accident. My dad never saw himself as disabled, because although his body was damaged, in his mind, he was a triathlete." Craig's personal experiences ignited a passion to support the spinal cord injury field. As the vision for the Foundation evolved, he realized the tremendous impact the Foundation could have to improve the lives of others.
The Craig H. Neilsen Foundation was established in 2002 to award grants to a broad spectrum of charities, including those that benefit spinal cord injury efforts. Today, with assets of approximately $500 million, the Foundation is primarily dedicated to funding extensive research, education and quality of life programs for improving the lives of people affected by spinal cord injury.
Be a part of the buzz as an official Working 2 Walk Sponsor. Join the Neilsen Foundation and these other great organizations today!