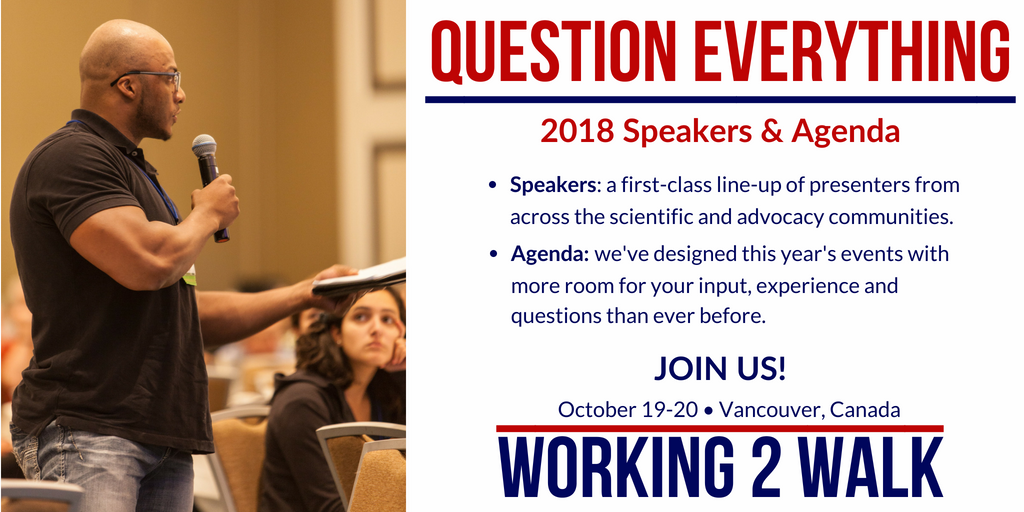 Just 1 week left to register online for Working 2 Walk 2018 in Vancouver.
We've talked a lot about how we want the SCI Community to be in the driver's seat when it comes to conversations around curative therapies. It's why a central component of our C.A.N. initiative is crafting legislation that requires having the SCI Community at the decision-making table.
[Call a PA Rep today to help pass our advocates' $1M Bill that's up for a vote tomorrow]
But making our voice heard means convening the entire stakeholder Community to deepen our knowledge and help define our priorities - together. This is why Working 2 Walk exists. Right now, we have over 40 individuals with a SCI registered (with more likely) - an incredible showing from a diverse, international group ready to engage in a dialogue around cures.
Don't miss out on a great opportunity to connect with one of the largest and most dynamic gatherings of the SCI Community in the world. Register Now!
---
Speaker Spotlight
Paying for After-hospital Rehabilitation
Dale Hull, MD, MPA | Executive Director, Neuroworx
Individuals affected by paralysis often do not have access to extended therapy after being discharged from the hospital because of financial issues. Either their insurance benefits are short-lived, they can't qualify for other assistance or they lack the personal resources to pay privately. Yet many of those individuals could progress to a higher level of functional mobility, greater personal independence, better health, and have an enhanced quality of life if they were able to obtain more rehabilitative therapy. An advocacy effort resulted in the State of Utah passing legislation in 2012 that created the SCI/BI Rehabilitation Fund to provide after-hospital physical, occupational, and speech therapy for individuals experiencing a spinal cord injury or brain injury who have the potential to make progress but do not have adequate resources to access the appropriate care. The individuals must be a Utah State resident and the fund functions as a payer-of-last-resort. The success of the program led to additional funding in 2017. Program monies are generated through DUI vehicle impound fees and the registration of motorcycles and off-highway vehicles. The fund is administered by a seven member committee made up of legislators, state administrators, and citizens appointed by the governor with oversight by the Utah Department of Health. Services are provided by rehabilitation clinics that meet the requirements specified in the legislation. Reimbursement is made directly to the clinics on a fee-for-service basis. During the first five years, funded individuals met or exceeded the functional goals and outcomes established by the oversight committee. 
The Path to Resolving Bowel and Bladder Problems following Spinal Cord Injury is Becoming Clear
Tracey Wheeler, PhD | Program Officer, Craig H. Neilsen Foundation
The inability to control one's own bowel and bladder impacts every aspect of daily life. The indignities faced after spinal cord injury (SCI) range from loss of independence and privacy in these basic functions to perpetual fear of "having an accident." It is consistently one of the foremost challenges identified by people with SCI; yet there have been few attempts to coordinate resources to improve bowel and bladder management. In March of 2017, the Craig H. Neilsen Foundation convened a workshop to provide leadership and focus attention on this fundamental need. Participants included a highly selective group of approximately 40 experts including clinicians, researchers, patient advocates, government agencies and potential funding partners to identify a path forward.
With the support of an International Advisory Committee, plans were crafted to develop a program that would build collective momentum towards identifying the most promising approaches to pursue, assuming a 10-year translational timeline as a reasonable and achievable goal. To frame the working discussions that were the core of the workshop, currently available tools, knowledge and treatments were reviewed. Participants presented compelling descriptions of the challenges they face as physicians and consumers, and in addressing translational issues faced in improving on current technologies.
This presentation reviews the 5 core recommendations from this effort and provides an update on the progress made since to address the pressing needs of people with SCI. 1) Neuromodulation 2) Clinical Practice Guidelines 3) Bowel Physiology 4) Sensation/Feedback 5) Rehabilitation/Activity/Exercise.
---
Register now to secure your spot. Dont miss an extraordinary opportunity to learn from and engage with our renowned presenters; contribute to the formation of a unified strategy; and leave with more tools to raise your voice effectively in the fight for curative therapies.
Join us!
Matthew Rodreick, Executive Director
U2FP
PS - For W2W attendees who had difficulty submitting their RSVP for the Blusson Tour announced last week, please know that the problem has been resolved. Remember: RSVP no later than Thursday, October 11 to marketing@rickhanseninstitute.org.