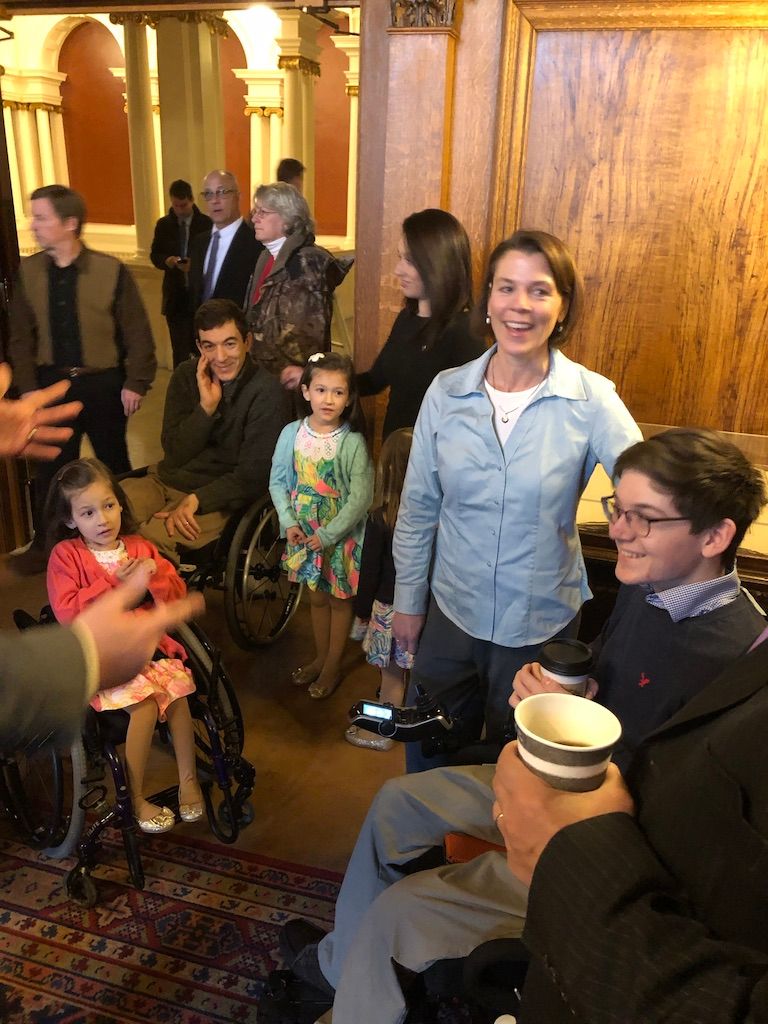 Our Cure Advocacy Network (CAN) activists in Pennsylvania had the opportunity to be at Governor Tom Wolf's signing of the $1M PA Spinal Cord Disability Research Grant Act (thanks to the Canadian/American Spinal Research Organization's travel support).
The Bill (passed in October 2018) allocates $1 million to fund research in Pennsylvania and is pursuant of the functional recovery of people living with Spinal Cord Injuries.
It was great to see so many of our CAN activists there: Kate and Jake Chalfin (and baby Angus), Melissa and Alex Pitts, Alex and Kira Charlton (and family), and Joni Haubert Mitchell. Being able to celebrate with our legislative authors — Sen. Mario Scavello and Rep. Marci Hahn — was extremely rewarding after all the hard work everyone put in. Senator Scavello and Representative Hahn have worked with U2FP's CAN activists for the last 2 and a half years to realize this victory.
Of course, there were many others who couldn't be there, but who nonetheless shared our appeals and called legislators at critical times during the process (Dr. Michael Lane, Ben Stear, Mike Pellicano, Kenneth Ryno, Leon Ford, Dave Zacks and countless others). And then there were the vital letters of support this effort received from United Spinal and The Christopher and Dana Reeve Foundation.
The PA SCI Research Grant Funding Bill is the culmination of 2 and half years of strategizing, meeting with legislators and scientists, and calling on our SCI community to support the effort. U2FP's larger strategy continues to focus on 1) increasing the (currently low level of) research dollars invested in SCI Research and 2) creating a more effective mechanism for the SCI community to have a voice in prioritizing strategies that address the chronic injury. Us.
We will be in Ohio meeting with legislators the week of February 18th, so stay tuned. WE NEED YOUR HELP to support this work. There is no one but you supporting these efforts. So, please consider becoming a monthly donor at whatever level you are able to afford.
We hope to be sharing another set of photos with our new crop of Cure Advocacy Network activists from the Governor's office in Ohio as soon as we CAN!
Join us,
Matthew Rodreick, Executive Director 
U2FP