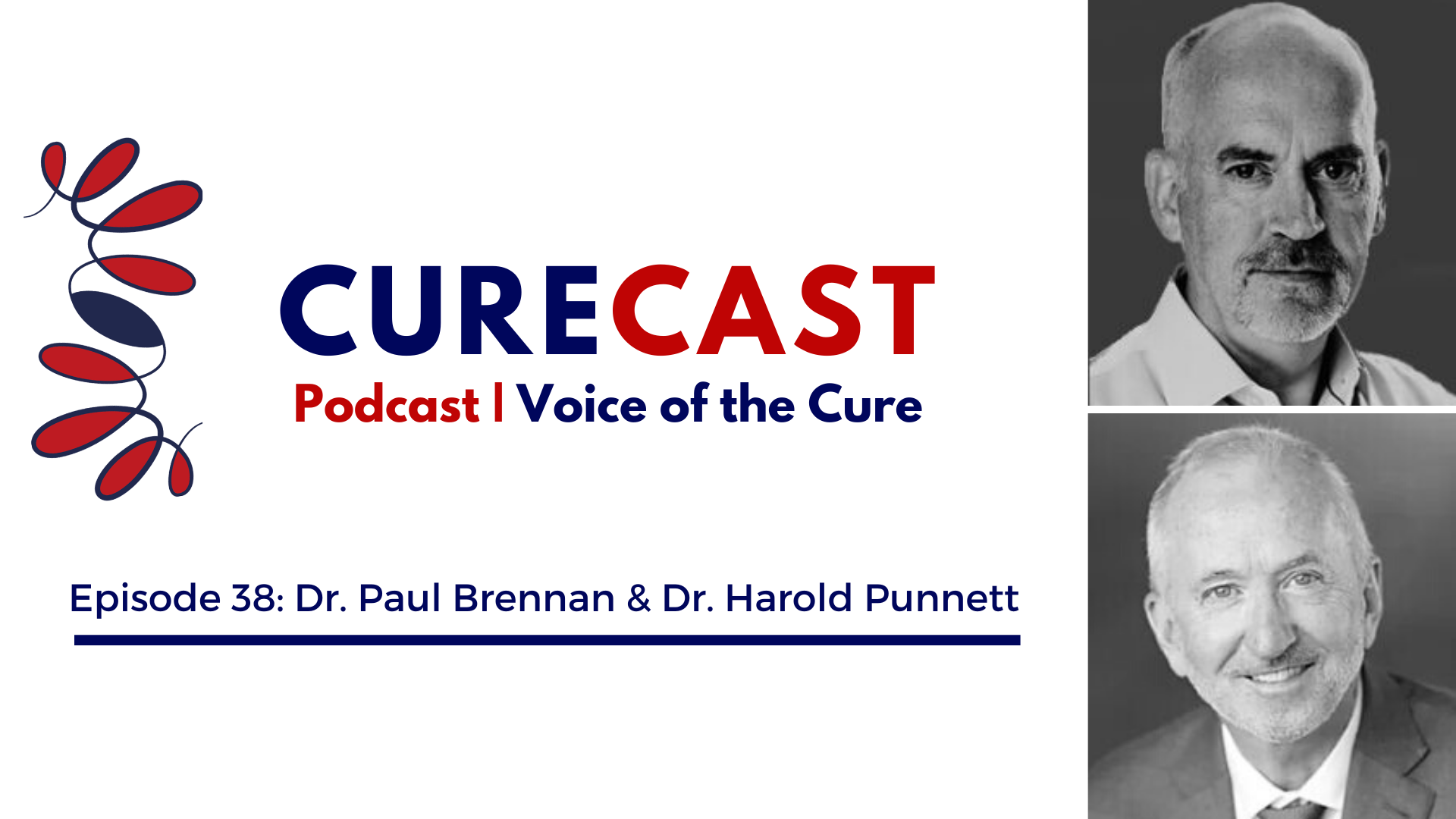 Jason and Matthew interview Dr. Harold Punnett (co-founder and member of the Board of Directors) and Paul Brennan (President and CEO) from NervGen Pharma.
They discuss how Dr. Punnett's daughter-in-law's Spinal Cord Injury led to the connection with Dr. Jerry Silver (click the link to hear more about the science from episode 19 with Dr. Jerry Silver) and eventually the founding of the company, their proprietary NVG291 (also known as intracellular sigma peptide or ISP) and their hopes for its use in treating SCI and other CNS disorders.
You can read their biographies below.
Don't forget you can also listen and subscribe with these streaming services: Soundcloud, Spotify, & Apple Podcasts.
Let us know what you think by emailing us at curecast@u2fp.org. Then help us feed the movement we need to cure paralysis from SCI - Donate Here.
---
Dr. Harold Punnett: Dr. Punnett, co-founder of NervGen, is an accomplished angel investor who has been the director of multiple start-up companies. As a dental surgeon with a practice in British Columbia, Canada, he has extensive knowledge of medicine and physiology, including cell biology. Along with this knowledge, he has a deep passion for those suffering from spinal cord injury and other nerve-related challenges. Dr. Punnett is a Member of the College of Dental Surgeons of British Columbia, Member of the British Columbia Dental Association and Member of the Canadian Dental Association. He received his doctorate degree from the University of British Columbia.
Paul Brennan: Paul Brennan has over 30 years of experience in the pharmaceutical and biotech industries working in leadership roles in general management, corporate strategy, commercial planning, business development and regulatory affairs in Canada, Sweden, the United Kingdom, and the United States. Most recently Mr. Brennan's experiences include senior business development and management positions in various biotech companies, including Aquinox Pharmaceuticals, Arbutus Biopharma, Aspreva Pharmaceuticals, and AnorMED Inc. Mr. Brennan has a comprehensive list of business development and licensing transactions, totalling over $3 billion in value: he played key roles in the merger of Tekmira Pharmaceuticals and OnCore BioPharma to create Arbutus Biopharma, in the sale of Aspreva Pharmaceuticals to Vifor Pharma for $915 million and in the sale of AnorMED to Genzyme for $580 million. Prior to working in biotech Mr. Brennan held senior roles in Business Development and Regulatory Affairs at AstraZeneca. Mr. Brennan holds a MSc in Physiology, and a BSc (Hons) in Life Sciences from Queen's University in Kingston, Ontario.
---
Thanks for listening!

P.S. U2FP's CureCast podcast continues to be funded by our generous donors, many of whom are individuals living with paralysis. Consider becoming our first Corporate or Organizational sponsor, so we can reach more folks in the SCI Community as well as continue to improve the depth and production of these important conversations. Email me at matthewrodreick@u2fp.org.