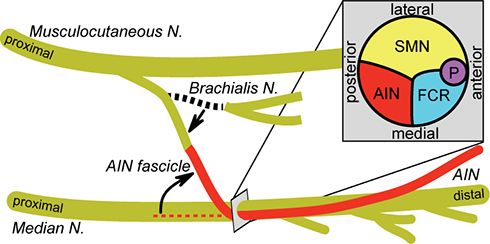 A 70-patient clinical trial has begun enrolling people with high cervical injuries to study the effect of a nerve transfer procedure on hand and finger function. 
The lead site for the trial is Washington University in St. Louis. Wilson Ray, M.D. is principal investigator. The trial is a continuation of a 20-patient study sponsored by the Department of Defense.
Other centers include Stanford, University of Michigan Ann Arbor, University of Pennsylvania, University of Texas Houston, University of Utah and in Calgary at Alberta Health Services. See full trial information, including contact information here.
Enrollment has been stalled by Covid-19 but is moving forward. Washington University has a surgery scheduled for July.
How it Works
Only one arm will get a transfer. The idea behind this procedure is to spliceis it to spice or reroute a working nerve fiber above the level of injury to one below the injury level that is not functional. The individual then retrains the arm and hand; the researchers believe plasticity (nerve remodeling and remapping) occurs in the nerve to strengthen its output.
The surgery is a careful procedure, guided by electrical signals to select both the proper donor and receiver nerves. Washington University has been doing these surgeries for many years, and has shown that such transfers enable people with poor hand function to grip and grasp. 
Data published last year by Ray was promising but not a slam-dunk success. From a paper on the Department of Defense study in the Journal of Neurosurgery/Spine:
In the authors' experience, nerve transfers for the reinnervation of hand and finger flexors showed variable functional recovery; however, transfers for the reinnervation of arm, hand, and finger extensors showed a more consistent and meaningful return of strength and function.
Dr. Ida Fox is a Washington University researcher and leader in the field; she is not involved in the current trial. Fox was a speaker at the 2017 Working 2 Walk Symposium. View her talk about the promise of nerve transfers here. 
The current trial is looking for people 18-65 with C4 to C8 injuries, ASIA A of B, up to three years post injury. 
The study will continue over a period of four years, looking at motor strength and prehension (the act of grasping or seizing), and quality of life outcome measures.
Rehab is a big part of functional recovery after a nerve transfer. This is how the trial listing puts it: 
Rehabilitation and hand therapy are critical components of motor re-education following nerve transfers. Cortical plasticity and motor remapping occurs following nerve transfers allowing independent functional control of the recipient muscles. All patients will begin rehabilitation and hand therapy beginning 2 weeks after surgery. They undergo one hour of hand therapy and occupational therapy for motor re-education once to twice a week for 48 months following surgery. Rehabilitation will be phased to early and late - added exercises focusing on co-contraction, repetition, and range of motion will be included as home therapy.