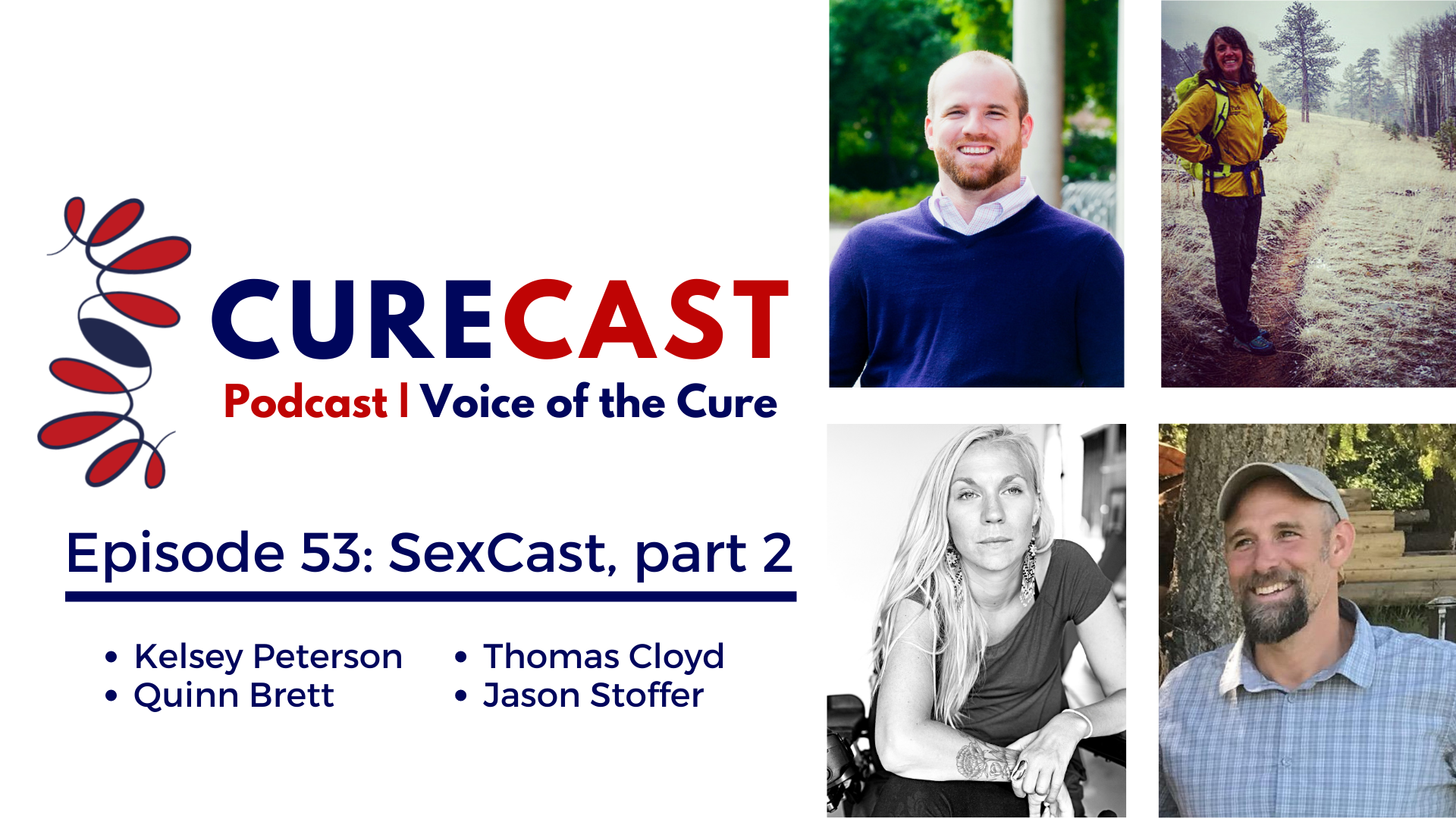 Jason and Matthew continue the conversation from episode 52 with SCI community members, Quinn Brett, Kelsey Peterson and Thomas Cloyd. They discuss each guest's experience with sex after injury, where they got their information and what they've learned and continue to learn.
This conversation starts to set the stage for our upcoming episodes with SCI researchers focused on sexual function for pleasure.
Once again, this is a frank conversation with language and themes to match.
---
Bios:
Thomas Cloyd is a healthcare business guy, fitness enthusiast, and advocate for the SCI community. He was born and raised in MN and following a c5 SCI in 2012, helped co-found GUSU, a SCI research non-profit, and graduated with an MBA from the University of Minnesota. He now lives independently in Oakland, CA working full-time and navigating all the ups and downs of adulthood with the added spice of quadriplegia. Thomas wouldn't be where he is today without help from others, and he is committed to paying that help forward in any way he can.
Kelsey Peterson is a dancer, writer, filmmaker and quadriplegic. Her previous path was interrupted when she sustained a spinal cord injury in 2012 and became paralyzed from the chest down. Despite her injury, Kelsey continues to dance, now from a wheelchair. She currently serves as co-director, choreographer and dancer on a live music and dance production featuring inter-abled artists called, A Cripple's Dance. Her choreographic background lends to her storytelling, which she also leans on in her documentary film, Move Me. Artistic advocacy for people with disabilities is her passion, using storytelling as a means of education, visibility and empathy.
Quinn Brett has a passion for wilderness and adventure that has taken her to the nooks and crannies of the world, reveling in the freedom of movement. Her accomplishments are varied; first ascents, speed ascents, summit handstands, public lands advocacy, National Park technical rescuer, educator and yoga-climbing retreat owner. In October 2017 she took a 100-foot fall climbing in Yosemite, causing paralysis below the waist, T12. Her drive to cover long distances over technically complex terrain continues, just a few layers deeper.  Quinn still advocates for public lands and now spinal cord research through writing, speaking and as an athlete.
Instagram: @quinndalina
Read about Quinn here:
Don't forget you can also listen and subscribe with these streaming services: Soundcloud, Spotify, & Apple Podcasts.
Like this episode? Make a donation here.
Feedback? Email us at curecast@u2fp.org
Bumper Music: Marriage In A Graveyard by Freaque (SCI artist Gabriel Rodreick)