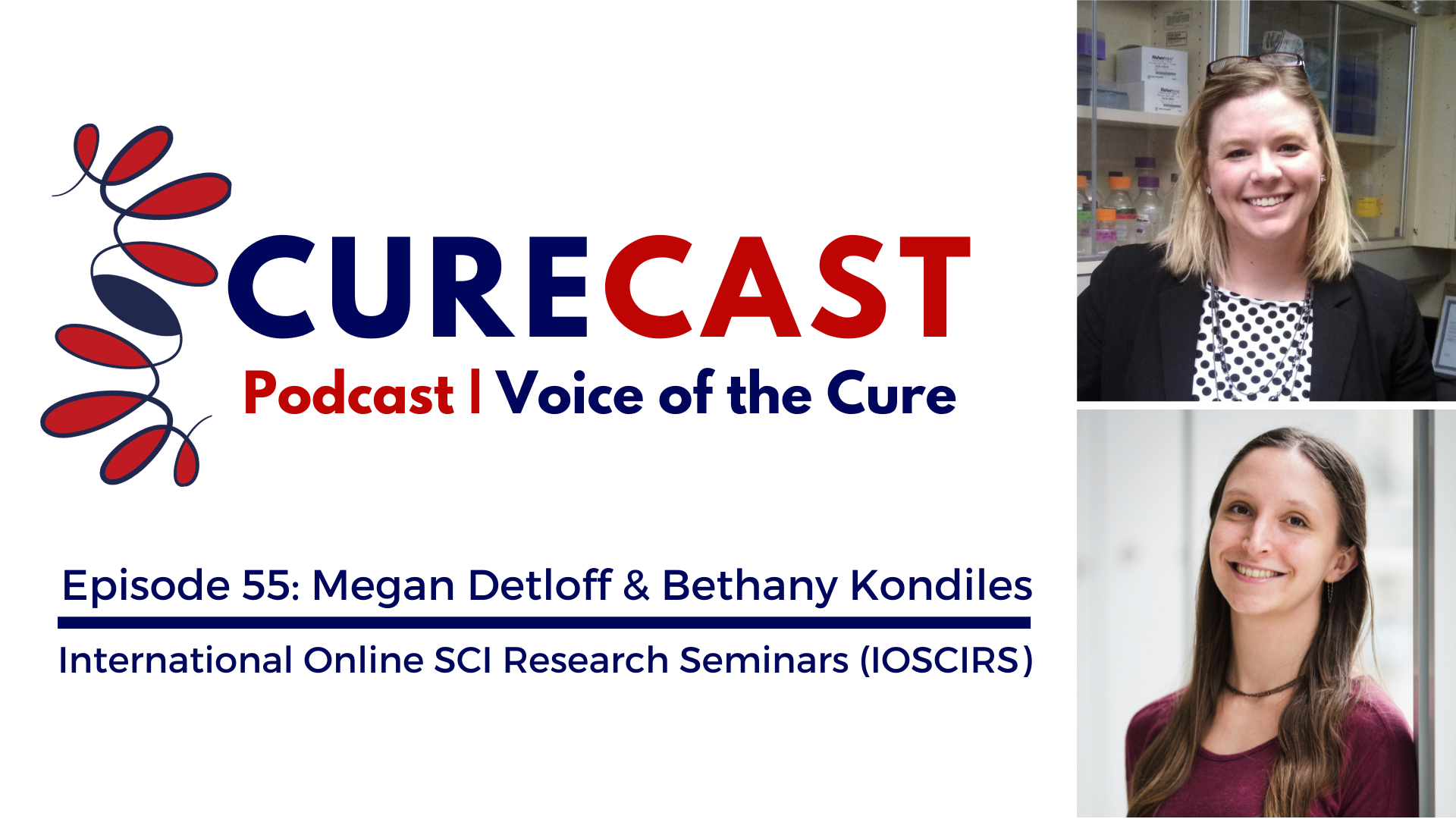 Jason and Matthew talk with Megan Detloff (SCI researcher at Drexel College of Medicine) and Bethany Kondiles (SCI researcher at ICORD). They talk about the evolution of the International Online SCI Research Seminar (IOSCIRS) in response to the pandemic and as a forum for SCI researchers to stay abreast of one another's work. But they have also begun to discuss the value of the seminar for the lay audience of people living with SCI. We talk through this development and both the challenges and opportunities to use this platform as a way to connect researchers and people living with SCI.
Let us know what you think. Send comments or questions to curecast@u2fp.org
Connect with I-OSCIRS

Bios
Bethany Kondiles is a postdoctoral research fellow working under Dr. Wolfram Tetzlaff at the International Collaboration on Repair Discoveries in Vancouver, BC. Her research focuses on myelin, aging, spinal cord injury, traumatic brain injury, and neuroprotective interventions. She has served on the steering committee of the International Online Spinal Cord Injury Research Seminars (IOSCIRS) since April 2020, and has chaired the Diversity Equity and Inclusion sub-committee since June of 2020. When she's not in the lab, she tries to get out climbing and skiing as much as possible in the beautiful BC mountains. Twitter: @beearekay
Dr. Megan Detloff received her B.S. in chemical engineering from the University of Michigan and her Ph.D. in neuroscience from the Ohio State University in the lab of Dr. Michele Basso. She came to Drexel University College of Medicine for a postdoctoral fellowship in the laboratory of Dr. John Houlé and is currently an Assistant Professor in the Department of Neurobiology and Anatomy and the Marion Murray Spinal Cord Research Center. Her research focuses on understanding rehabilitative exercise can modulate both inflammation and a subtype of neurons called nociceptors that contribute to chronic pain development after spinal cord injury. Together with colleagues from the University of Kentucky and the spinal cord injury research field, Megan has been a founding contributor to the International Online Spinal Cord Research Seminars or I-OSCIRS, a YouTube channel that broadcasts live research seminars given by faculty and trainees from across the globe.
 
Don't forget you can also listen and subscribe with these streaming services: Soundcloud, Spotify, & Apple Podcasts.
Like this episode? Make a donation here.
Feedback? Email us at curecast@u2fp.org
Bumper Music: Dig a Hole by Freaque (SCI artist Gabriel Rodreick)
---
PS - In case you missed it, Jason Stoffer and I recently did a follow-up podcast on our recent SexCast series. Check it out and then send your questions and comments to us at curecast@u2fp.org