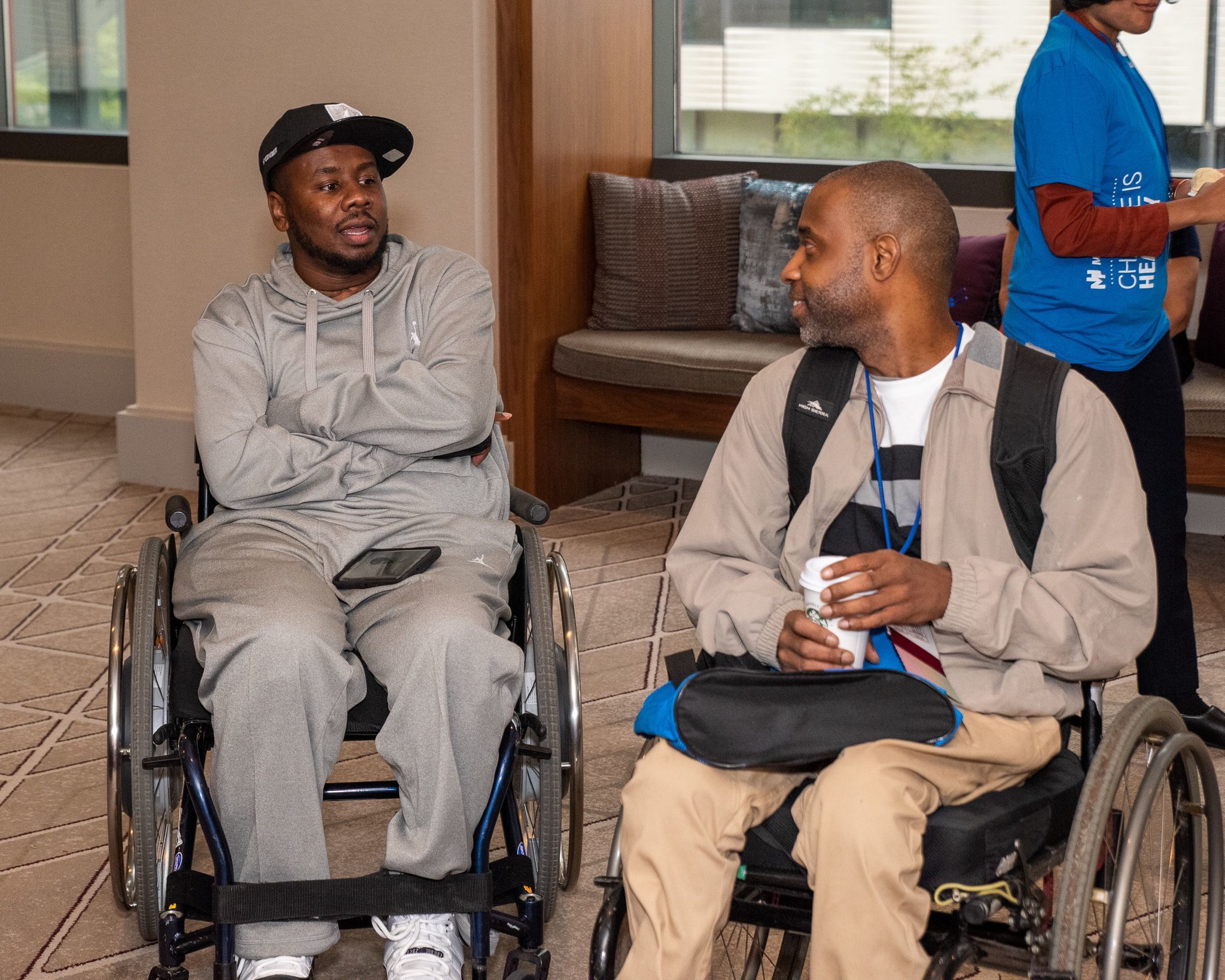 (above, Romel Whiteside talks with FES/Stim Panelist Jason Shaw at U2FP's 2019 Symposium in Cleveland)
U2FP's 16th Annual Science & Advocacy Symposium is just a week away, starting Thursday, October 21 - Saturday, October 23, 2021.
Online Registration closes on Tuesday, October 19th, so get your tickets now!
This is a premier gathering of the SCI and Scientific Communities. And it's not just a science show and tell, but a collaborative meeting. We bring all the players together to sharpen and accelerate the speed and efficacy of the movement for cures.
Which is why we provide 75% OFF REGISTRATION FEES for the SCI Community (Individuals & Family, & PCAs), as well as future scientists and researchers (undergrad & grad students). Details for claiming these discounts on our registration page here.
At this year's Science & Advocacy Symposium, you'll get the latest on
Sexual function recovery
Spinal stimulation strategies
SCI regeneration advances,
Rehab, exercise and nutrition
Then jump into the conversation, and share YOUR priorities for curative interventions. You'll have multiple opportunities to converse with advocates, scientists, funders, biotechs & sponsors, including:
Question & Answer discussions after each session
Live group chat with all attendees in our Networking Room
Peer-to-Peer chat that will allow attendees to form their own chat groups
Session-themed Zoom Discussions after each day's program has concluded
Plus, live chat and video conferencing with select sponsors
Can't make every day of the Symposium? No problem - all attendees will have exclusive access to a full recording of our event a week or so after it concludes!
Want more details? Check out Sam Maddox's in-depth feature of our presenters and topics in New Mobility magazine. Or peruse our agenda or speaker line-up.
Join us!