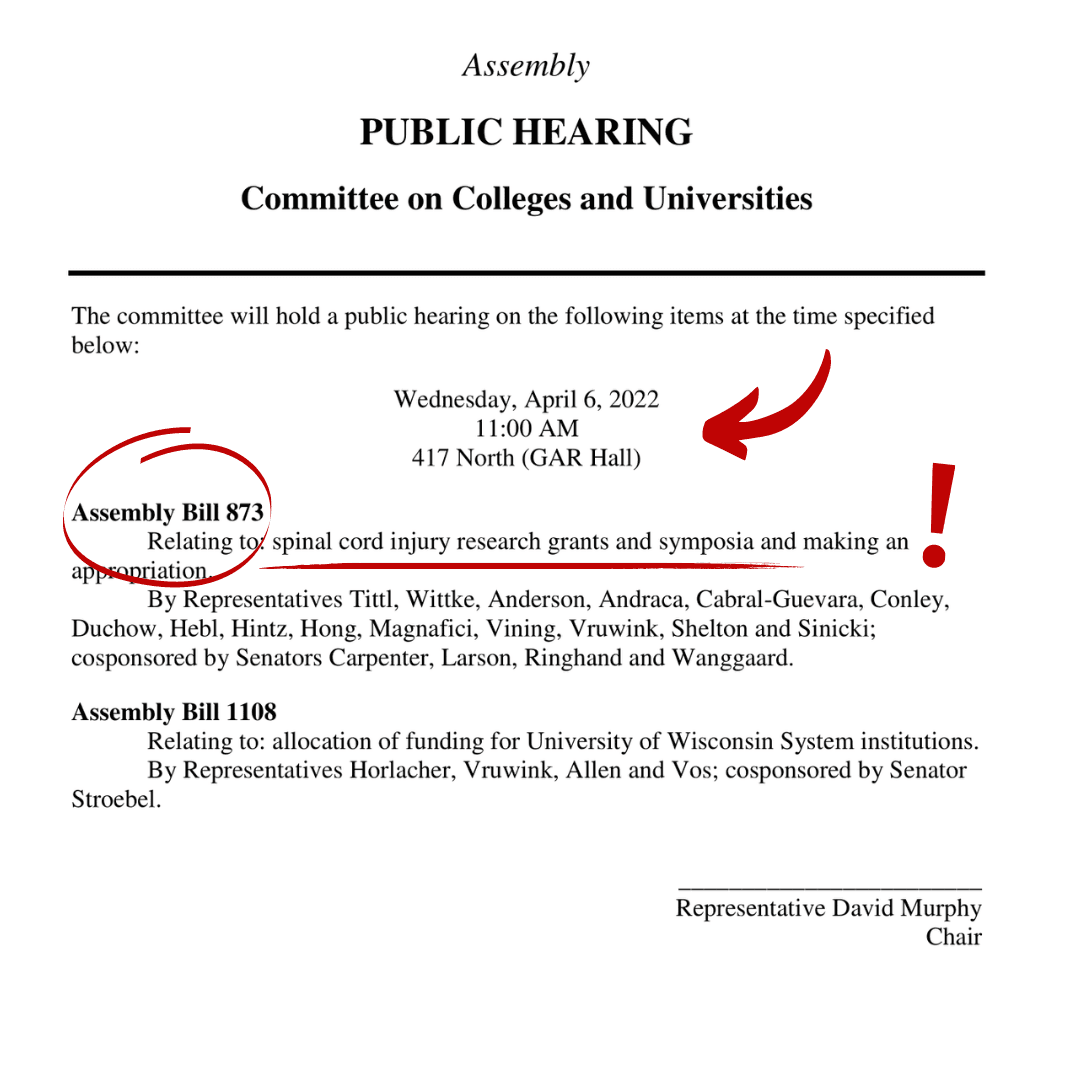 As we mentioned yesterday, our SCI Research Grant bill (AB873) is scheduled for a hearing this coming Wednesday, April 6!
This is our opportunity to raise our voice as an SCI Community and help legislators understand the impact this funding for curative therapies could make in our lives.
Below are a few reminders, as well as some more detailed information on getting around at the capitol in Madison.
Here are the three most impactful things you can do:
Show Up. You don't have to testify to attend the public hearing. The more people - especially people in wheelchairs - who show up, the better our chances are to move this bill towards passage. 417 North is on the fourth floor of the capitol. There is accessible parking at the East Washington entrance and Martin Luther King entrance on the ground level.

Here's a map highlighting accessible entrances to the capitol

.
 
Testify. You can testify in-person or by writing a letter of support. Here's an example of a support letter. Whether you can physically show up to the capitol or not, your voice can still be heard. Email me your support letter (

jakebeckstrom@u2fp.org

), and I will add it to our growing stack of written testimony.
 
Contact Committee Admin Michael Moscicke. Mike is the Clerk for the Colleges and Universities Committee. The more supportive messages he receives for this bill in the run-up to this hearing, the better our chances of eventual passage. Be sure to explicitly reference our SCI Research Grant bill - AB873. Here's Mike's contact information:

We're in the final rounds of this fight for SCI Research funding in Wisconsin - the level of our SCI Community's responsiveness will be a huge factor in this bill's success.

Let's show up and keep raising our voice!