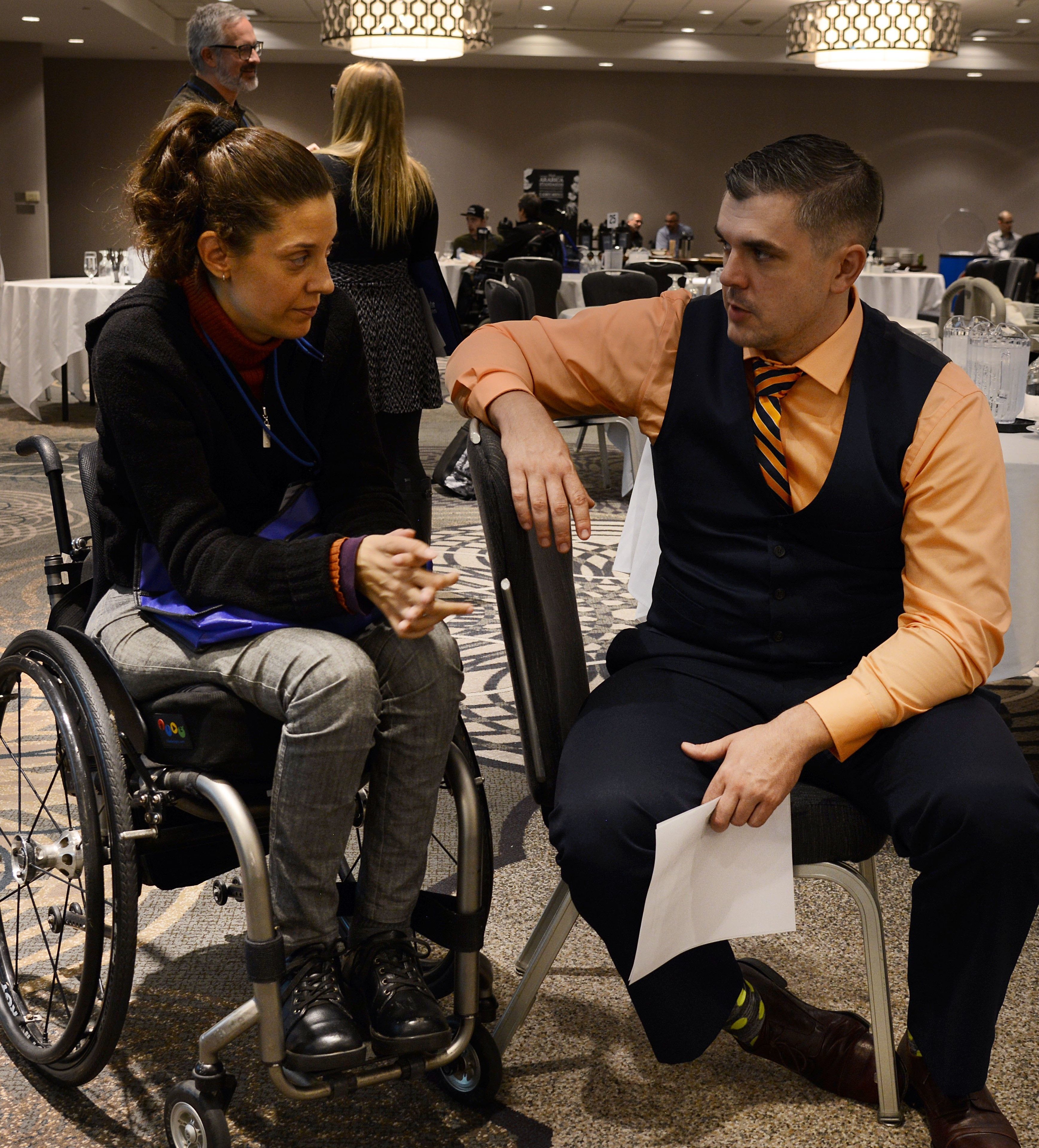 Above: Anita Kaiser (left) talks with 2018 Symposium presenter Dr. Tommy Sutor (right).
This year's 17th Annual Science & Advocacy Symposium is just two days away, starting this Friday, September 23 and going through Saturday, September 24, 2022.
The push to accelerate meaningful treatments for the SCI Community can't happen without you. Sharing your perspective with world-class researchers, clinicians and biotech leaders and learning more about their work and its challenges is a critical ingredient that makes our Symposium special. The interactions fuel the insights. 
We intentionally build in lots of discussion time that both livestream and in-person attendees can participate in. Your voice and presence are critical to the movement for curative therapies.
There's still time to register - either via our livestream, or to attend in-person with us here in Salt Lake City, Utah.
Our conference is a collaborative gathering that prioritizes the voice of the Spinal Cord Injury (SCI) Community. We bring together research scientists, clinicians, and community advocates, along with investors and industry leaders to exchange information and strategies for achieving recovery from SCI.
Check out our speakers and agenda, which includes links to all presentation abstracts and presenter bios.
We've made it as affordable as we can for members of the SCI Community to participate in this important gathering. Whether you plan to come in-person or participate in our livestream, these discounts apply:
SCI individuals/families = 50% off regular price
Students = 50% off regular price
Personal Care Assistant = free (in-person) or 50% discount (livestream)
Details for claiming these discounts are on our registration page.
Don't miss out on this one-of-a-kind event where you can get up to speed on the latest curative research from world-class scientists, so that the impact of our collective voice can be that much stronger.

Join us!