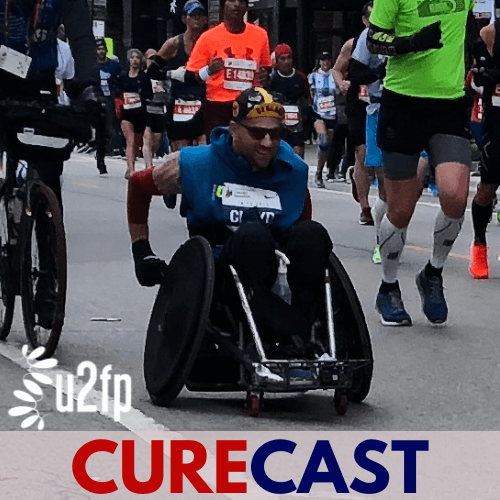 This episode features Thomas Cloyd, who is competing in the Bank of America Chicago Marathon for Team U2FP next Sunday, October 9th. Thomas' reasons for joining Team U2FP go well beyond just this race. His history with U2FP goes back almost a decade when he helped Matthew Rodreick and others in the SCI community pass the SCI/TBI Research Grant bill here in Minnesota in 2015.
That bill was the catalyst for U2FP's Cure Advocacy Network (CAN), which has now passed over $25M in SCI research funding via these legislative advocacy efforts. And since it's hard to get grant money to lobby state legislatures, Team U2FP is one of our primary sources of funding for CAN.
Thomas speaks to the power he felt being a part of that first organizing effort, how he completed his first marathon ever for Team U2FP in a quad rugby chair, and some of the unique benefits - both physically and emotionally - that he saw in himself while training for this event and why you should consider testing your own limits on behalf of the SCI community.  
Listen on: Spotify | Apple Podcasts | Soundcloud
Bumper music: Dig a Hole by Freaque (SCI musician)
Consider donating to Thomas' race efforts here. And if you're inspired to throw down and join Thomas as a member of Team U2FP, either in the Chicago Marathon next year, or in a physical challenge or race of your choosing, email us here: marathon@u2fp.org.
Want to hear more from Thomas? Check him out on episodes 52 and 53 of CureCast, our popular series on sexual function, where he participated in a candid discussion about sex after SCI. 
 
Guest Bio
Thomas Cloyd is a healthcare business guy, fitness enthusiast, and advocate for the SCI community. He was born and raised in MN and following a c5 SCI in 2012, helped co-found GUSU, a SCI research non-profit, and graduated with an MBA from the University of Minnesota. He now lives independently in Oakland, CA working full-time and navigating all the ups and downs of adulthood with the added spice of quadriplegia. Thomas wouldn't be where he is today without help from others, and he is committed to paying that help forward in any way he can.

Like this episode? Make a donation.
Feedback? Email us at curecast@u2fp.org