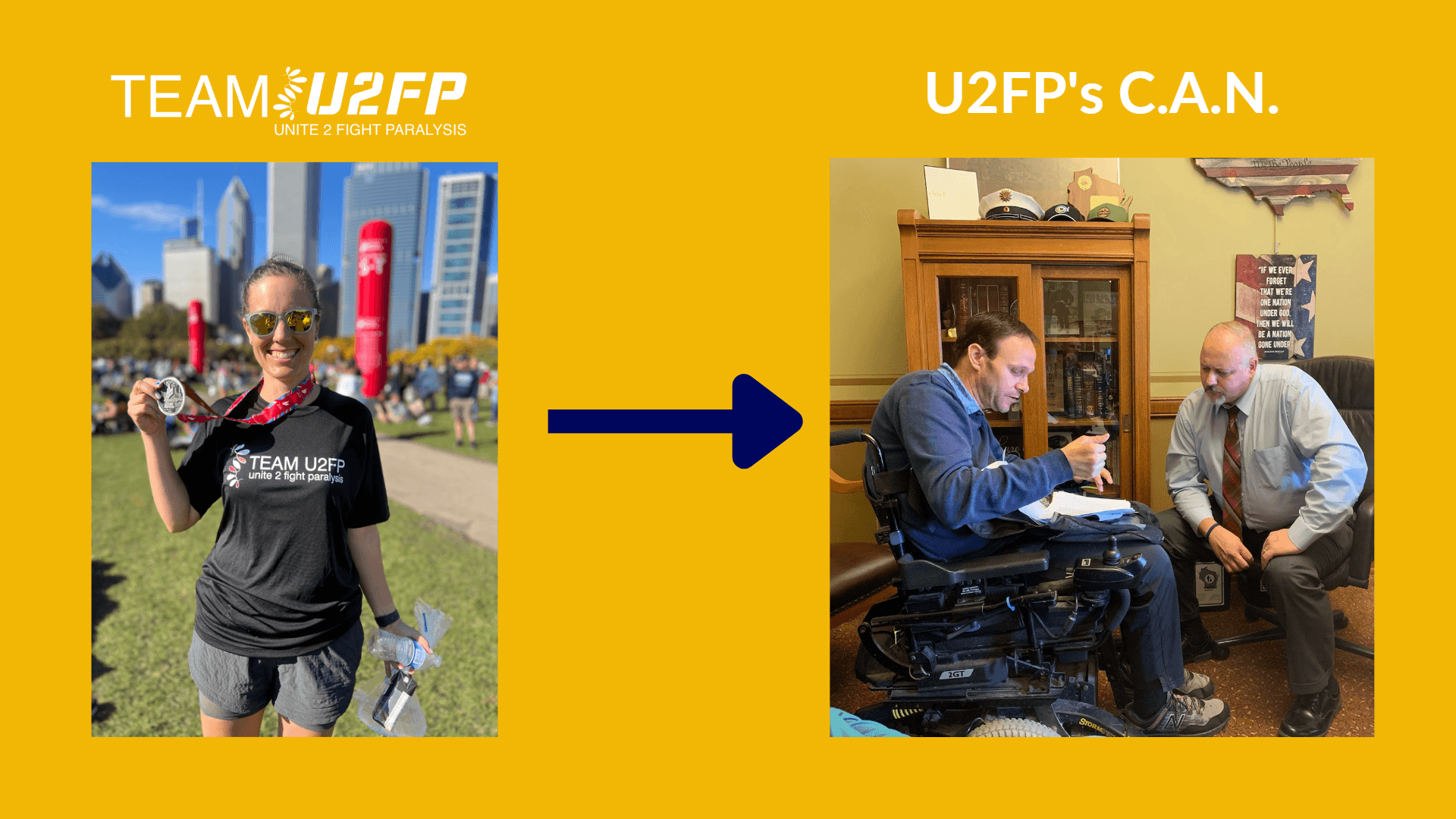 Above: 2022 Team U2FP Chicago Marathon racer Crystal Smith (left), raised almost $1,500 in last year's Chicago Marathon. Those fundraising efforts helped support our trip to the Capitol in Madison, Wisconsin last month, where we are close to passing a $3M SCI Research Grant Bill! Crystal's support enabled paralyzed SCI Researcher Dan Hellenbrand (right) to convince Rep. Jesse James to sign on as a co-author of our bill!
Did you know that states typically spend hundreds of millions of dollars per year on individuals with a spinal cord injury? While those dollars are crucial for the care and services that our community needs, none of that money goes to funding curative therapies.
That's why U2FP started our Cure Advocacy Network, to train and mobilize the SCI Community to advocate for legislation that funds functional recovery research in their states. And our Team U2FP racers are one of the primary sources for funding this important work. Why? Because it is nearly impossible to get grant funding for legislative advocacy, since it's technically considered political lobbying.
Over the last 7 years, U2FP has passed similar bills in Minnesota, Washington, Pennsylvania and Ohio, with a total of over $26M having already funded SCI research aimed at curative therapies. Moreover, the legislation we pass puts individuals with the injury on the advisory boards that choose what research proposals get funded. This process gives the power back to the SCI Community, helping us have a say in what strategies get prioritized.
And some of it is pretty exciting. Take a look at this video with some of the results from the EStand Trial that our Minnesota bill is funding.
When you join Team U2FP, your fundraising efforts will support the work of our Cure Advocacy Network, helping advocates to pass legislative funding bills for SCI research in their home states. This is the real impact our racers have.
We still have spots available on Team U2FP for racers interested in the Bank of America Chicago Marathon. You'll be guaranteed a spot in this elite marathon, along with receiving:
A Personalized Fundraising Page
A Team U2FP Performance Shirt
A Fundraising Guide
Application Fee Reimbursed After the Race
Support Along the Way
Questions? Email us at marathon@u2fp.org
PS - Not interested in racing yourself? Share our info with a friend! We'd love to bring new folks into our community - whether they already have a connection to SCI or not.