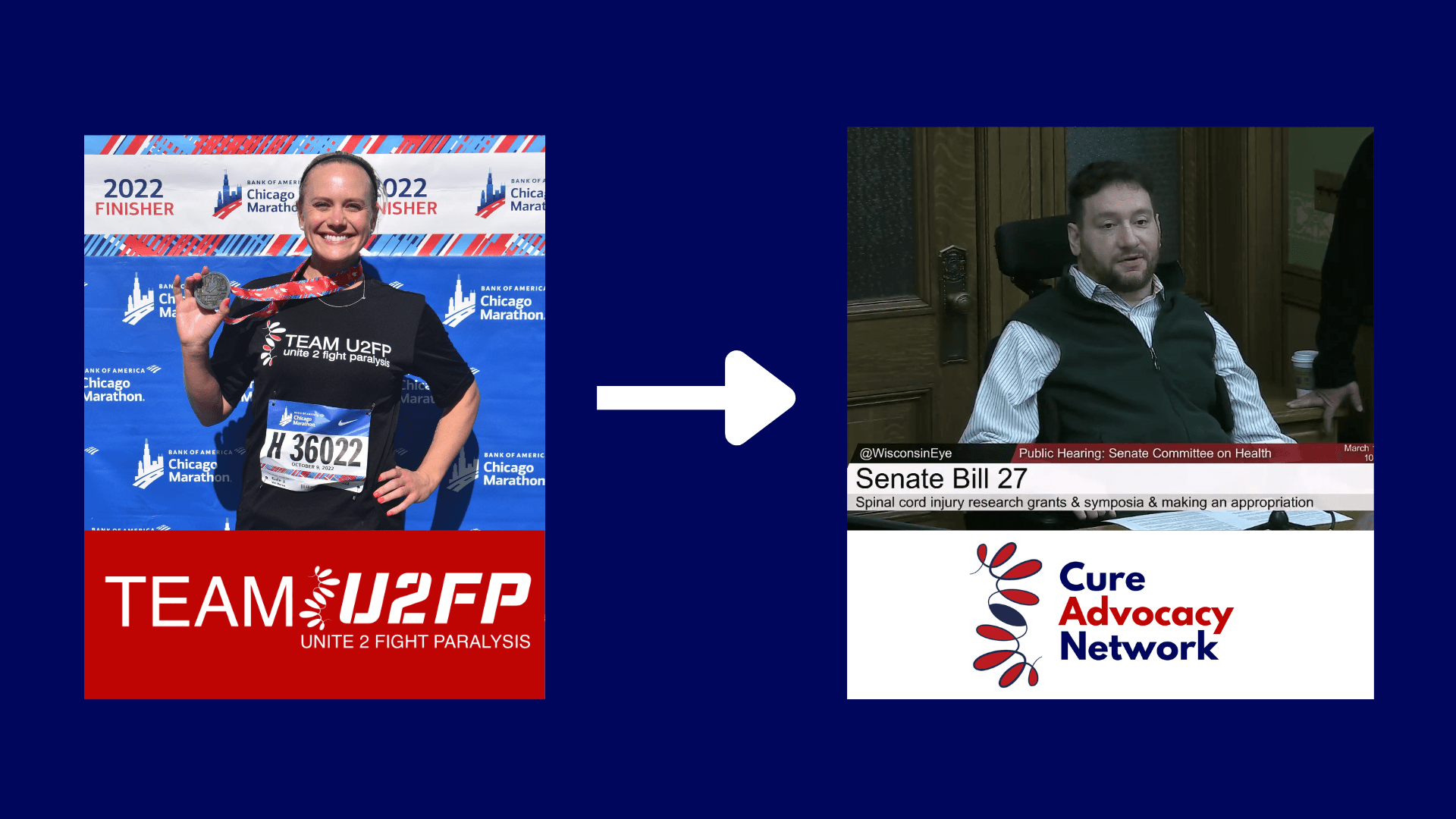 This Friday, March 31st is the deadline to sign up with Team U2FP for the Bank of America Chicago Marathon. Don't miss out on your opportunity to receive a guaranteed spot as a runner or wheeler in this world-class racing event.

When you join Team U2FP, your fundraising efforts will support U2FP's important work, especially our Cure Advocacy Network (CAN) initiative. CAN advocates work to pass legislative funding bills for SCI research in their home states.
This is the real impact our racers have. For instance, the fundraising efforts of Team U2FP Chicago Marathon racer Samantha Kish (pictured above, left) helped us secure a Senate hearing where Wisconsin CAN advocate Mike Mohr (above, right) could testify in support of our $3M SCI Research Grant Bill. Your participation in Team U2FP could help get our bill over the finish line!
As a member of Team U2FP, you'll train for your race while also spreading the word about our organization to your friends and family. We'll also host virtual happy hours with our racers to get to know each other, share fundraising tips and learn about the important work U2FP is doing for the SCI community.
All Team U2FP Participants Receive:
A Personalized Fundraising Page
A Team U2FP Performance Shirt
A Fundraising Guide
Application Fee Reimbursed After the Race
Support Along the Way
There are only five more days for you or your marathon enthusiast friends or family to sign up! Click the link below before this Friday, March 31st and lock in your spot in this one-of-a-kind race.
Questions? Email us at marathon@u2fp.org
Lucia Webb
PS - Not interested in racing yourself? Share this info with a friend or family member! We'd love to bring new folks into our community - whether they already have a connection to SCI or not.