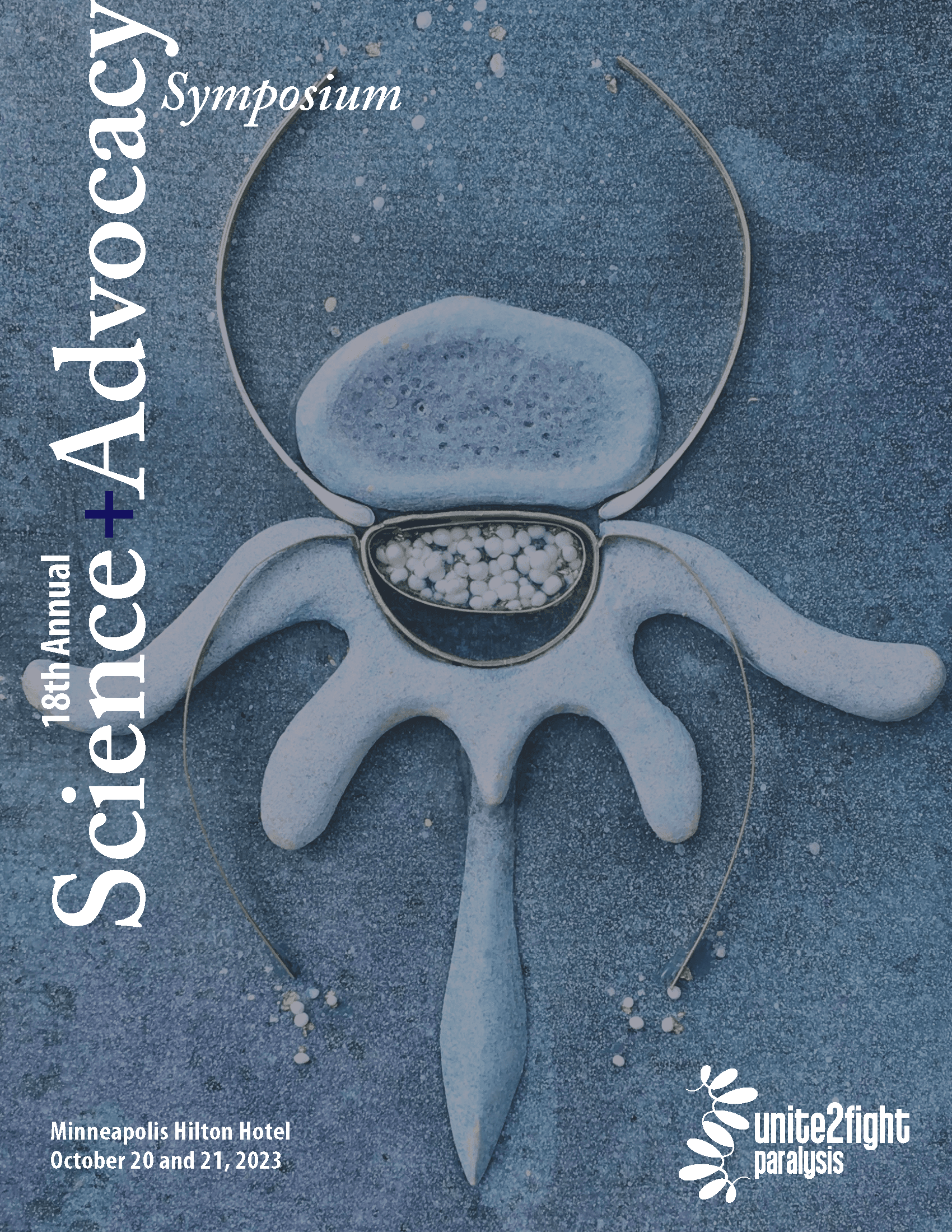 We're just a week and a half away from U2FP's 18th Annual Science & Advocacy Symposium, happening at the Minneapolis Hilton on Friday, October 20 & Saturday, October 21, 2023 (register here). We have a top notch line-up of presenters from across the scientific, clinical, biotech, regulatory and advocacy spectrum.

And as I mentioned last week, we'll also be showcasing work from our featured artist, Lynne DeNio, whose husband has a spinal cord injury. These original, mixed media pieces will be on display for conference attendees to view. Additionally, we will have a limited number of 11x17 prints from this series available for sale.
We were so moved by Lynne's work that we also decided to feature it in this year's conference program, which you can now download and view below.
Click here to download and view our 2023 program

Take some time and peruse our 28-page symposium program, where you can see Lynne's art incorporated on many of our pages. Then read Sam Maddox's "Navigating U2FP's Science & Advocacy Symposium," which takes you on a contextual tour of our two-day agenda, providing insight and background on our presenters and how they each fit into the cure effort.
In addition to viewing some stunning, original art by a member of the SCI community, rubbing elbows with top-tier scientists, and seeing what's coming down the research pipeline at our poster session, in-person attendees will also be treated to food and drink at our Networking Reception on Friday evening. This event is sponsored by ANEUVO, a biotech company whose ExaStim device is one of several stim implants that will be discussed by a patient panel earlier on Friday afternoon. Then, on Saturday afternoon, our Breakout Sessions will give you a chance to share your experience and opinions on three different topics:
Risk vs. Benefit: Right to Try / Good Enough to Try
Community Research Partnerships: What Does This Look Like?
Advocacy Opportunities: What Can I Do?


We've designed this year's Symposium to be as interactive, engaging and educational as possible. Every voice counts and we want as many different perspectives represented from across the Scientific and SCI communities. This gathering of stakeholders won't be complete without you.
Join us!