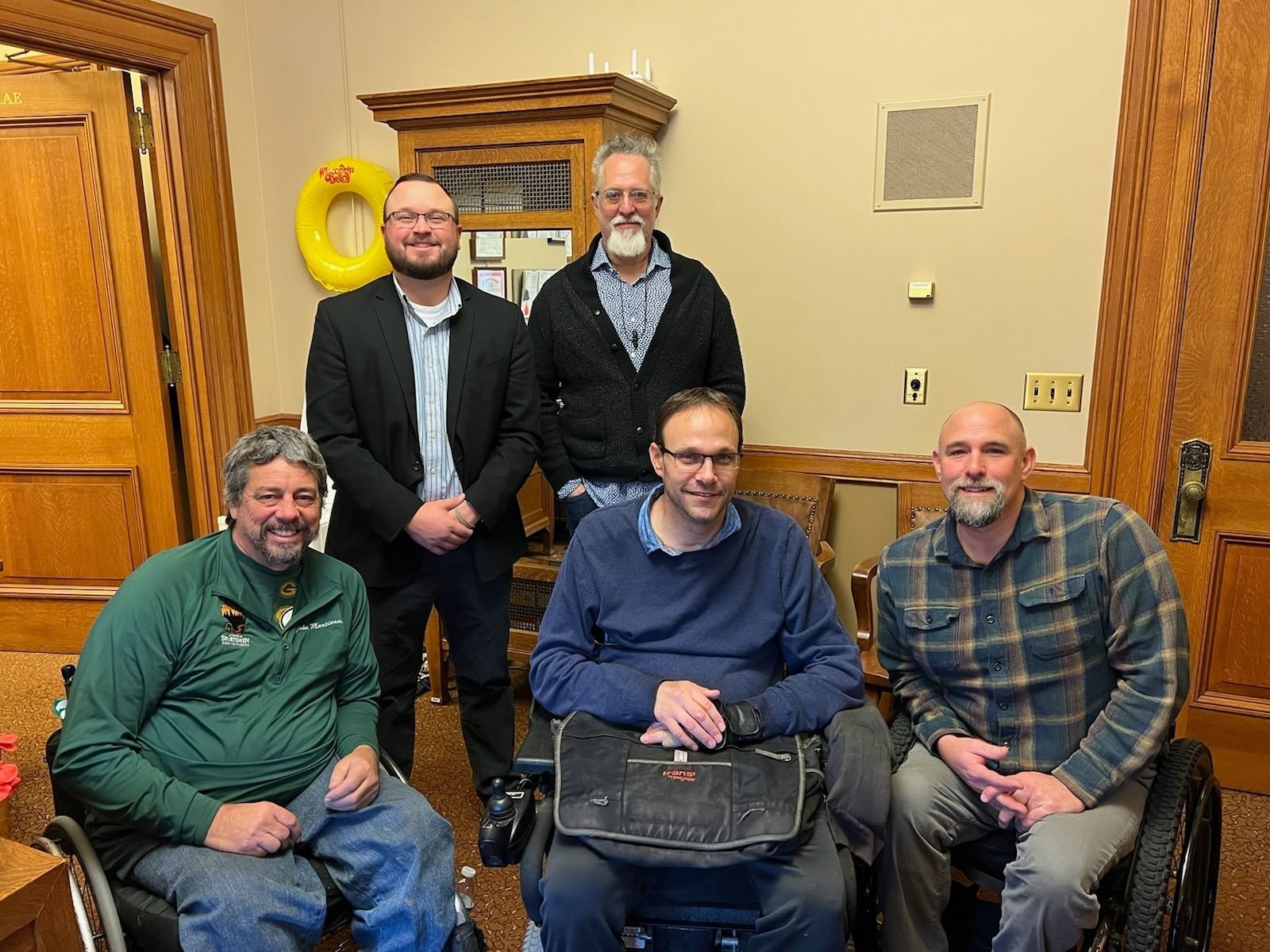 John Martinson (above, left) with fellow WI CAN advocate Dan Hellenbrand (center) securing the support of legislator Alex Dallman (R - Green Lake) earlier this year.
My name is John Martinson. You could call me the Original Wisconsin CAN Advocate. I met Matthew Rodreick at U2FP's 2017 Science & Advocacy Symposium in Miami. I was so impressed with the work U2FP was doing in Minnesota that I asked Matthew if he would help pass spinal cord research funding in my home state of Wisconsin, and he wholeheartedly agreed.
The next year, we started our advocacy efforts in the Wisconsin legislature, and we have been fighting for our bill ever since.
This year, I am happy to see that our $3M SCI Research Grant bill has made it as far as it has ever been through the legislative process since we started in 2018. But we have not passed the finish line yet.
Our bill is SO close. We just need it to be voted on in the Joint Finance Committee before it can move to the Senate and Assembly floor for a final vote of approval. We have met with every JFC member, and they appear supportive.
I am writing to you today, as someone who has been fighting for this bill for the last 5+ years, to ask for your help in getting this bill through the last hoop.
Please contact the two legislators listed below, who are the Co-Chairs of the JFC. Encourage them to put this bill up for a vote in the JFC and move it to the legislative floor.
You can say something like this:
Dear Senator/Representative,

My name is ____ ______, and I [have a spinal cord injury / am family/friend of someone with a spinal cord injury].

Please bring our Spinal Cord Injury Research Grant Bill (AB19/SB27) to a vote in the Joint Finance Committee. We have strong support from both Republicans and Democrats who have indicated they will vote for approval of this bill, it just needs to be put on the agenda for a vote.

Please help us get SCI research out of the lab and into people like [me/my family/friend]. We desperately need this bill to pass this session - our community can't wait!
Please call and/or write these JFC members, no matter what state you live in:
JFC Co-Chair: Senator Howard Marklein
(608) 266-0703
Sen.Marklein@legis.wi.gov
JFC Co-Chair: Representative Mark Born
(608) 237-9139
Rep.Born@legis.wisconsin.gov

This bill is so close. And our time is running slim on the legislative session calendar.
Please Raise Your Voice and let's get this Passed!