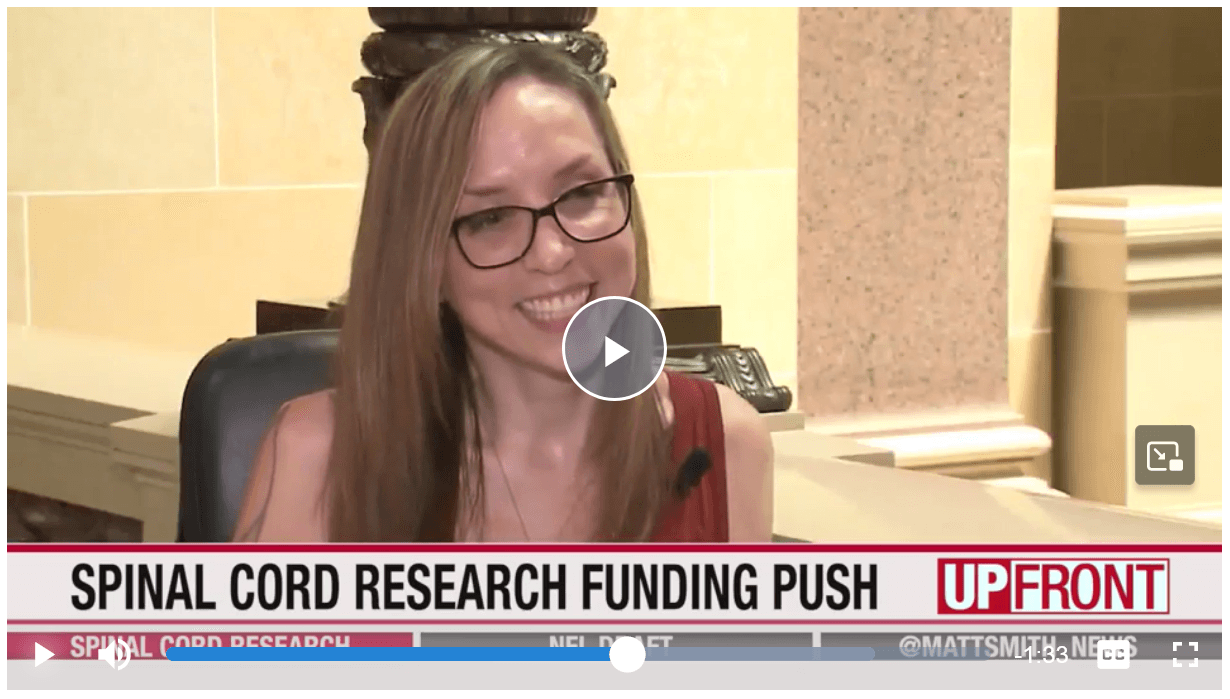 Above: U2FP WI CAN advocate Samantha Troyer being interviewed by WISN12, which ran another story yesterday on our recent push to pass an SCI Research Grant bill in Wisconsin. Watch the story here.
Last week, I drove to Madison and joined our CAN advocates there to try and push our $3M SCI Research Grant bill over the finish line. We reconnected with our bill's authors, Sen. Wanggaard and Rep. Tittl, and lobbied the key players on the Joint Finance Committee (or JFC, where our bill is still stuck) to see if we could persuade them to pass it out of their committee. Despite some encouraging conversations, our bill hadn't yet moved out of the JFC when we left on Wednesday evening.
My sense is that our cause is getting lost in the current drama of Wisconsin's higher profile partisan fights. Our bill is bipartisan, and widely supported, and so it's being taken for granted and put on the back burner with key legislators and their aides.
Like so many other areas of life with an SCI, once again we're being told to wait. We're being told to just be patient. Well, I'm impatient when it comes to potential recovery for my son and the rest of our community. And we're running out of time.
This Thursday, November 16th, is the last day of the Wisconsin legislative session. Which means this is our last week to get our bill passed out of the JFC and onto the floor for a final vote.
We did learn on last week's trip to the capitol that our bill is being held up in the JFC by Rep. Mark Born, who is a co-chair. We weren't able to talk to Rep. Born, but I was able to convince Rep. Tittl to get in his ear about our bill. Now's the time to contact Rep. Born's office with calls and emails, so he can't ignore us. And that's where you come in.
Please contact Representative Mark Born, who is the Co-Chair of the JFC. Tell him to put this bill up for a vote in the JFC and move it to the legislative floor so it can be passed this session.
You can say something like this - but make it your own:
Dear Representative Born,

My name is ____ ______, and I [have a spinal cord injury / am family/friend of someone with a spinal cord injury].

Please bring our Spinal Cord Injury Research Grant Bill (AB19/SB27) to a vote in the Joint Finance Committee. We have strong support from both Republicans and Democrats who have indicated they will vote for approval of this bill, it just needs to be put on the agenda for a vote.

Please help us get SCI research out of the lab and into people like [me/my family/friend]. We desperately need this bill to pass this session - our community can't wait!

Please call and/or write Rep. Mark Born, the Assembly's JFC Co-Chair, no matter what state you live in:
JFC Co-Chair: Representative Mark Born
(608) 237-9139
Rep.Born@legis.wisconsin.gov
And if you want to go the extra mile, you can contact our bill's assembly author, Rep. Paul Tittl (Rep.Tittl@legis.wisconsin.gov | 608-237-9125). He told me he was committed to convincing Rep. Born to get this out of JFC and onto the floor for a vote. You can call or write Rep. Tittl and say: "Thanks so much for talking to Rep. Born to get our SCI Research Grant bill to the floor for a vote this week!"
Myself and our WI CAN advocates have done as much as we can. Now it's up to all of us to raise our voices and remind them that the time is now!
Join us!
PS - If you feel shy about calling legislators, remember that you can call Rep. Born after 5pm CST and leave a voicemail. Doing this AND writing an email is a nice combo that could make a bigger impact.