Sponsor our 18th Annual Science & Advocacy Symposium!
Highlight your work and strengthen your brand in a stimulating environment that focuses on the SCI Community. Increase your market reach nationally and internationally, all while supporting a ground-breaking conference.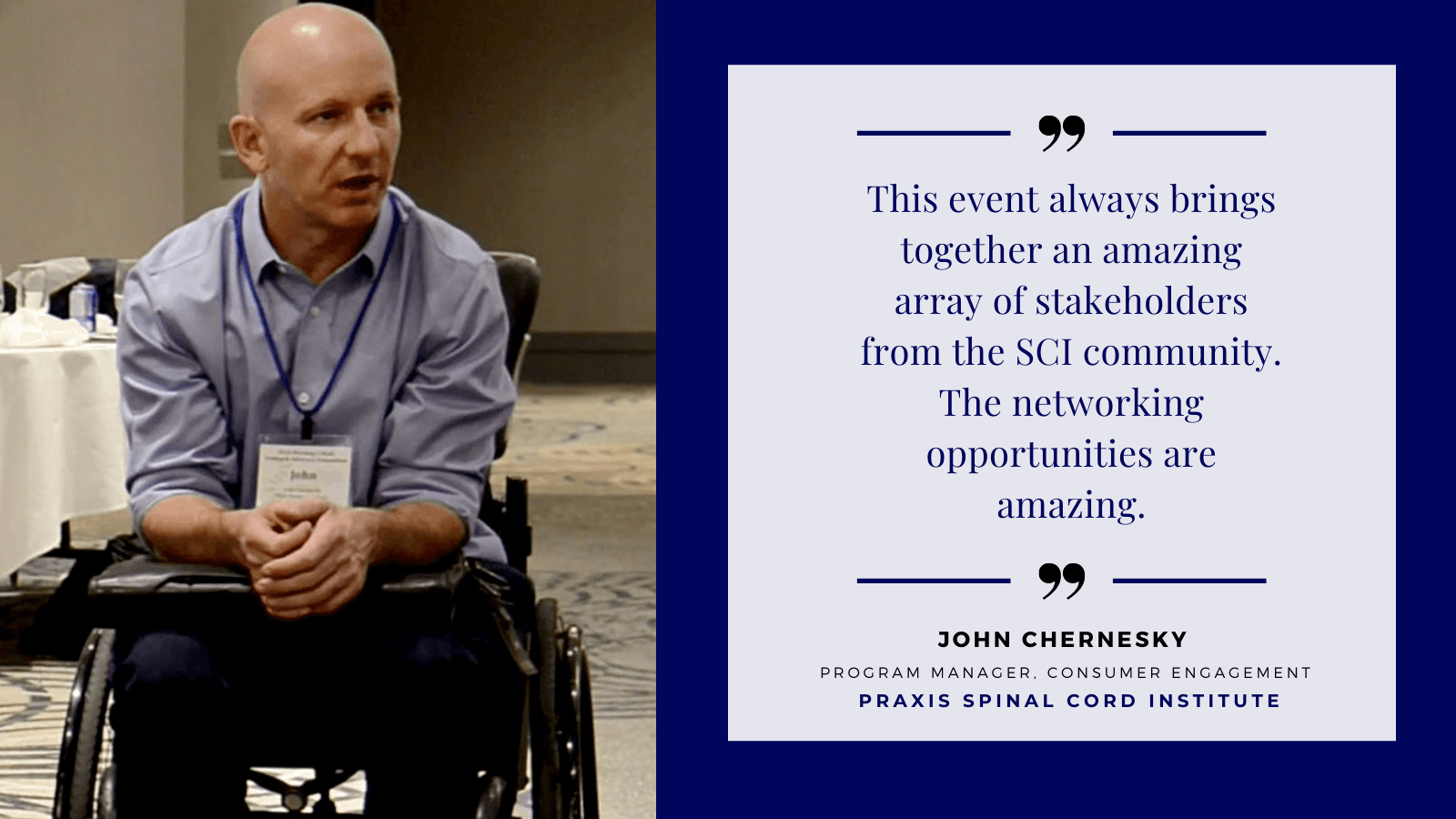 Why Sponsor U2FP's Annual Science & Advocacy Symposium?
Alignment with Cutting-Edge Research: know where the research is headed to stay ahead of the curve

Brand Exposure Where It Matters Most: increase your reach within the national and international SCI Community

Deepen Your Market Research: take advantage of the opportunity to hear directly from the constituency you serve

Demonstrate Your Commitment: show the SCI Community that you've prioritized curative therapies

Create Opportunities: your support helps fund our registration discounts and travel scholarships for SCI attendees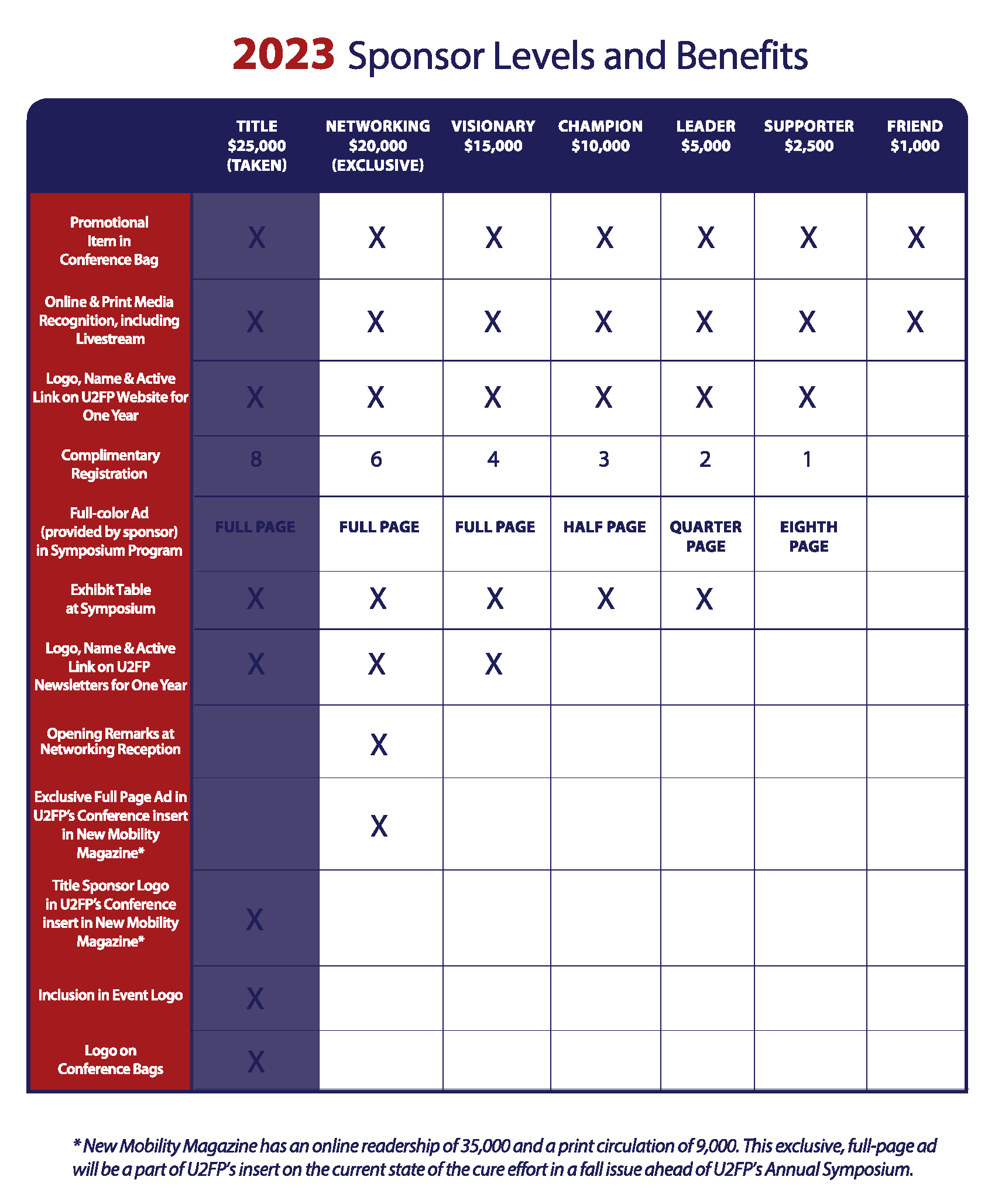 ---
Exhibitor Prospectus
U2FP's Annual Symposium 2023 is a two-day symposium to be held at the Minneapolis Hilton hotel in Minneapolis, Minnesota. The focus of this event is the advancement of curative therapies for paralysis. Information will be presented on current treatments, research, the status of clinical trials, and essential strategies to improve overall physical health of individuals living with paralysis. Advocacy sessions will provide information, direction, connection and resources that will empower community members to promote the critical efforts to expedite curative therapies.
Previous symposiums were held in Salt Lake City, Cleveland, Vancouver, Miami, Minneapolis, Washington DC, Chicago, Phoenix, Boston, Seattle, and Irvine CA, hosting 200-250 highly motivated attendees each year. This event provides a unique setting for researchers, clinicians, and the paralysis community to collaborate on the advancement of cutting edge regenerative and rehabilitative therapies.  
Note that we have a very high percentage of returning supporters from year to year, and our exhibitors value the intimate environment and opportunity to connect with such a unique and committed audience.
Audience
Paralysis survivors (primarily spinal cord injury)
SCI Advocacy Organizations & Foundations
Families, Friends and Caregivers
Research Scientists
Biotech and Pharma Representatives
Activity Based Therapy and Fitness Centers
Rehabilitation and Recovery Specialists
Occupational and Physical Therapists
Exhibitor Schedule & Resources
On Friday, October 20, and Saturday, October 21, the event schedule will run from 8:00 am to 5:00 pm.  There will be a networking reception from 5:00-7:00 pm on Friday evening. Exhibitor tables will be conveniently located directly outside the main conference hall. Attendees will have numerous opportunities to visit exhibitors prior to the symposium, during all breaks, and after the sessions. When the event schedule is finalized, a copy will be sent to all exhibitors.
For more information, contact Unite 2 Fight Paralysis at 1-888-564-2228 or matthewrodreick@u2fp.org
---
Sponsor Resources