Episode 59: Lab Rats (part 2)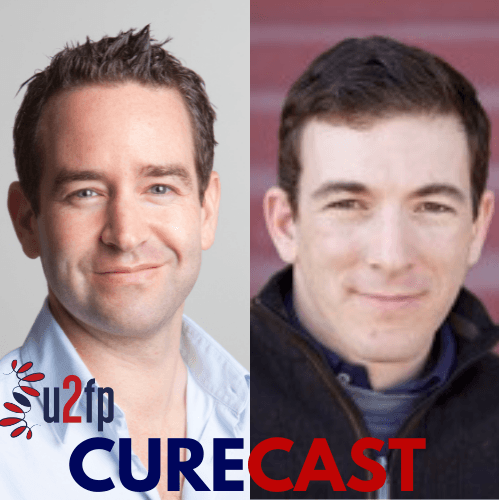 Guests: Michael Lane & Jake Chalfin
Jason and Matthew talk with Michael Lane (Researcher at Drexel College of Medicine) and Jake Chalfin (SCI advocate and chair of the PA Spinal Cord Advisory Research Council) as we continue with part 2 of our series on the experience of SCI community consultants joining research labs. This discussion continues our exploration around the exciting and unique nature of this relationship and its impact on the research process.
If you missed part 1 with Murray Blackmore and Nancy Nicholas, you can find it here: Episode 58. 
U2FP is actively working to match community members with scientists while supporting both parties to ensure that these relationships grow into effective partnerships. If you are a scientist or a member of the SCI community who is interested in exploring this kind of relationship, please fill out the interest form below. We are facilitating and supporting these relationships in order to ensure they are effective and productive.
Listen on: Spotify | Apple Podcasts | Soundcloud
Bumper music: Patience by Freaque (Minneapolis-based musician with an SCI)

Guest Bios
Michael Lane, PhD, is an associate professor in the Department of Neurobiology & Anatomy at Drexel University College of Medicine. He leads a research team consisting of two graduate students and one junior faculty member (instructor). Prior to coming to Drexel, Dr. Lane was an assistant professor in the Department of Neuroscience at the University of Florida, McKnight Brain Institute. He also served as a lecturer in the annual NIH-funded Spinal Cord Injury Training Program at The Ohio State University from 2009 to 2013. Check out his work at the Lane Lab.
Jacob Chalfin first attended U2FP's Annual Symposium (formerly Working 2 Walk) in 2012 and has been a supporter of U2FP thereafter. Through his connections at U2FP, Jake and his wife teamed up with a small group of advocates in Pennsylvania and successfully lobbied for a bill that now provides $1M in annual funding for SCI research. As a result of this bill's passage, Jake chairs the PA Health Department group, the Spinal Cord Research Advisory Committee (SCRAC), which manages the funding process and is now in its second year. Jake also participates as a consultant with the Lane Lab SCI research department at Drexel University.  This unique role provides perspective from the SCI community with the goal of creating a tangible connection between the urgent need for actionable treatments and theoretical science.  Jake has a Bachelor of Science degree from Colorado State University, is a Township Supervisor and a Sales Manager for over 20 years with Laurel Valley Soils, Inc. While competing as an amateur steeplechase jockey, Jake sustained a spinal cord injury in 2010.  He has a C-7 lesion ASIA B, and is paralyzed from the chest down. Post injury, Jake worked hard to live an active lifestyle traveling on vacations and participating in adaptive sports. Jake married in 2015, and he and his wife were fortunate enough to conceive through IVF and have two vibrant healthy children.