Junk Drawer: Spinal Stimulation (Episode 75)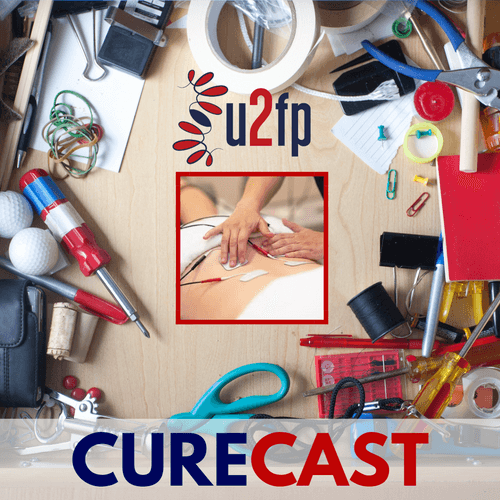 Guest: Sam Maddox
Today's episode revisits important elements and loose ends of spinal cord stimulation (SCS) that didn't fit neatly into the arc of our first three conversations on this topic. We're calling this installment the 'Junk Drawer' - not because we consider these loose ends to be junk, but because they represent the multi-directional potential of stimulation's promise that are on the horizon. This includes strategies we haven't fully broached such as combination therapies and clinical trials that are in the works - including one that we here at U2FP helped design and coordinated funding for - as well as well as other strategies such as deep brain stimulation and intra-spinal stimulation.
As always, please share your thoughts with us via email at curecast@u2fp.org. Thanks for listening! 
Listen on: Spotify | Apple Podcasts | Soundcloud
Bumper music: Dig a Hole by Freaque
Guest Bio
Sam Maddox (of Los Angeles, California) is former Knowledge Manager and spinal cord injury research writer for the Reeve Foundation. He is the author of several books related to chronic health and paralysis, including four editions of the Paralysis Resource Guide, published by the Reeve Foundation. In 1992 Maddox wrote the first comprehensive history of spinal cord injury research, The Quest for Cure: Restoring Function After Spinal Cord Injury. He wrote and published the widely acclaimed resource book Spinal Network, and is founder of New Mobility magazine. Maddox was a panel member on The Consortium for Spinal Cord Medicine, which develops and disseminates evidence-based clinical practice guidelines to professionals and consumers. He is currently writing and producing books as a resource for the newly injured: SCI: First 90 Days. He has been a reporter for many magazines, including Time, Money and People. Maddox is a graduate of the University of Colorado, where he taught in the School of Journalism.
Related Research
The following presentations were given last year at U2FP's 2022 Science and Advocacy Symposium and cover aspects related to this episode's discussion of spinal stimulation:
Monica Perez - A Novel Approach to Target Functional Restoration After Spinal Cord Injury. This presentation addresses Paired Associative Stimulation, Transcutaneous Stimulation, and Transcranial Magnetic Stimulation in conjunction with rehab. From the abstract: "participants with chronic SCI receiving Hebbian stimulation targeting multiple limb muscles combined with exercise training improved largely than a group receiving sham stimulation in the performance of functional tasks and physiological outcomes."
 
Yi-Kai Lo - Innovations in SCI Therapy: Non-invasive Spinal Neuromodulation for Motor Function Improvement (with Chris Mason-Hale & Rebecca Martin, OTR/L, OTD, CPAM)

.

From the abstract: "in this presentation, Dr. Yi-Kai Lo will discuss ExaStim, an investigational non-invasive spinal neuromodulation system developed by Aneuvo, and Dr. Rebecca Martin will discuss the potential clinical benefit of using transcutaneous spinal stimulation as a treatment to SCI."
 
Reggie Edgerton - Exposure of Unrecognized Systemic Adaptive Physiological Mechanisms has Provided a Robust Platform for Greater Recovery Post Paralysis. From the abstract: "I will propose that multiple combinations of sensory mechanoreceptors generate functionally composite ensembles from which an infinite number of unique sensory ensembles, having species-specific meaning and extensive influence in controlling posture and locomotion. These sensory ensembles are translated as a probabilistic phenomenon into highly specific but indeterminate actions. Therefore, we opine that spinal translation of these ensembles in real-time plays a central role in defining the details of the temporal patterns of all motor pools that participate in a given movement and therefore ineffective finds the movement that is generated."
Related CureCast Interviews
---
Acknowledgments
This podcast is made possible by a grant from the Christopher & Dana Reeve Foundation's National Paralysis Resource Center. The information provided and opinions expressed in these podcasts do not necessarily reflect the views of the Christopher & Dana Reeve Foundation. For more information about the Foundation's National Paralysis Resource Center visit https://www.christopherreeve.org/living-with-paralysis