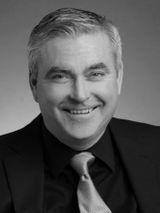 Barry Munro is a U2FP board member and Chief Development Officer at the Canadian/American Spinal Research Organization (CSRO).
---
Last month, I had the opportunity to represent U2FP as well as the North American SCI Consortium (NASCIC) in addressing a gathering of scientists, therapists, clinicians and the SCI Community at a 2-day NIH conference entitled SCI 2020: Launching a Decade for Disruption in Spinal Cord Injury Research (you can watch the conference here & here if you missed it).
This was a unique opportunity, in that it may have been the first time that the SCI Community was formally part of these meetings and had a chance to make a presentation to the audience.  In preparation for the conference, we felt it was incumbent upon us to canvas our community and ask for their input.  
We received an overwhelming response - in just over a month more than 1800 people (mainly people with lived experience) responded to our questions and provided some valuable input. 
The highlights of what the community responded with, and what we presented at the NIH meeting, were two-fold:
The importance of focusing on research for restorative function for chronically injured members of the community.  
That people with lived experience of spinal cord injuries are looking for increased function and relief from secondary conditions like chronic neuropathic pain, and the restoration of bowel and bladder function.  
These were the priorities that were communicated to us directly from the survey respondents, who are living with spinal cord injuries every day.
It was our hope that the NIH and scientific communities would take this information and include the will of the SCI Community in setting their priorities for the next decade.  
In my opinion, the most important message that we gave was that the community was a strong, viable potential partner that can only enrich and bring great resources to the scientific community and SCI research going forward.  
We demanded that people with lived experience be part of all aspects of research in one form or another, and we stressed that there is a sense of urgency while we wait for these advances.  
The most sobering point we made was the following statistic: those of us that have been injured for more than 30 years might not be alive for the next decade's conference. 
To put it bluntly, people are dying from the secondary complications of SCI.  And we need to continue to stress that urgency in order for a true disruption in the way we as a society fund SCI research.
What will the next steps carried out by the NIH and the scientific community in response to this urgency be? Time will tell.
But the clock is ticking and those of us with lived experience shouldn't wait to find out. Instead, we need to help define what a decade of disruption will actually be. 
We must unify and become active. Get involved with what U2FP is doing and join NASCIC.
We've made our case, but we are not done - this is just the beginning!
Join us,
Barry Munro, U2FP Board Member | Chief Development Officer
U2FP | Canadian/American Spinal Research Organization (CSRO)