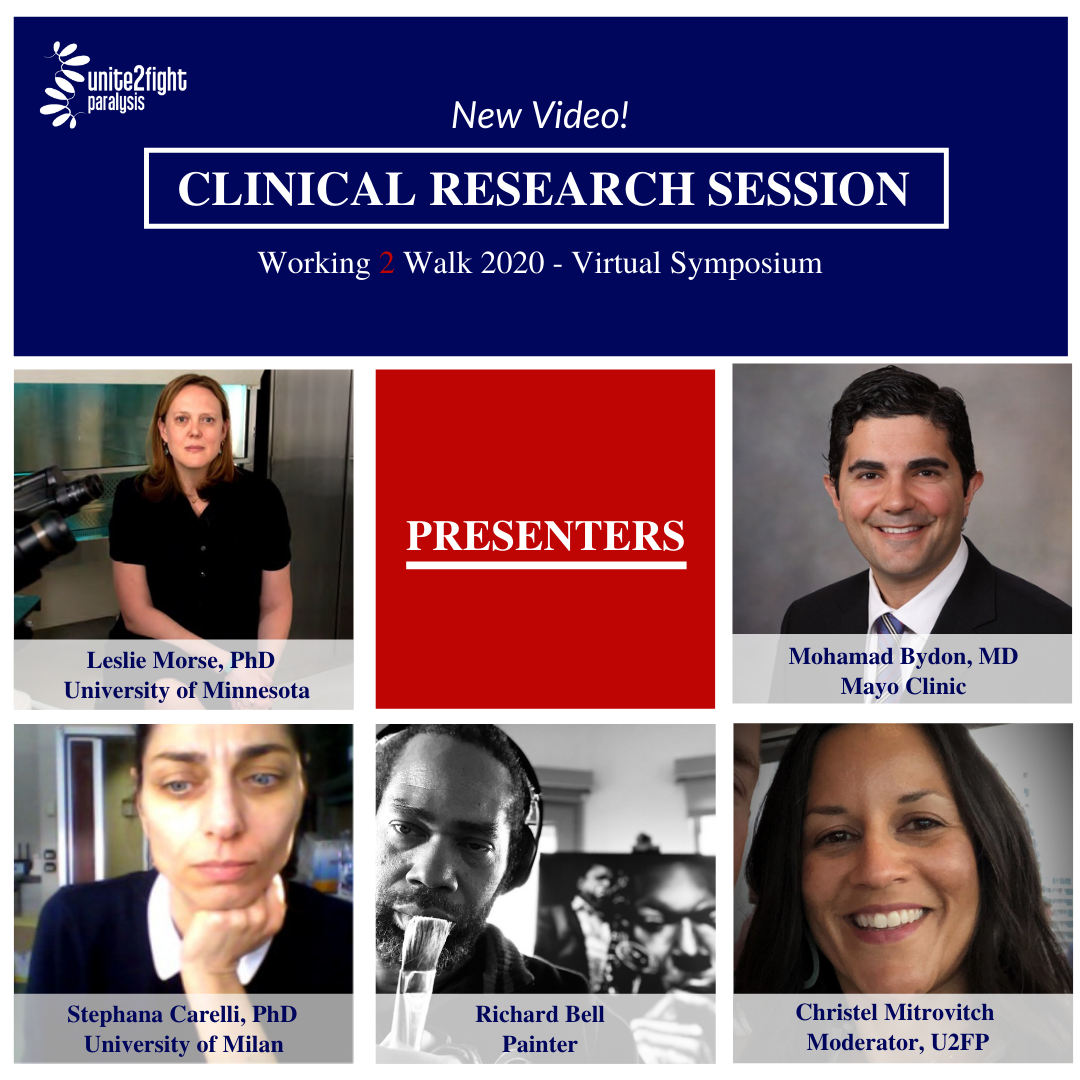 As promised, we've just made public the first of six video segments from our Working 2 Walk Virtual Symposium this past October.
If you weren't able to join us then, you can now watch the Clinical Research portion of the symposium here on our video library page (or here on our YouTube channel).
You may remember that this year's symposium was broken into five key stakeholder sessions:
Clinical Research: research performed with humans
Pre-Clinical Research: research done in laboratory experiments and animal models
Industry / Biotech: companies that are trying to bring a research discovery to a clinical product
Funding Agencies & Organizations: agencies or foundations that fund research of all kinds
SCI Community Advocacy and Activism
The Clinical Research Session was our opening segment of the conference, which included presentations and a panel discussion with the following individuals:
Dr. Leslie Morse | Department Head of the Department of Rehabilitation Medicine at the University of Minnesota
Dr. Morse discussed the need for more robust and rigorous research on the effects of exercise, including Activity Based Therapy, in the SCI population. She provided a summary of the current state of this research and made some suggestions toward improving our knowledge base, as well as some assumptions that need to be challenged. Dr. Morse is currently working with U2FP's Activity Based Exercise workgroup, which is composed of representatives from multiple community centers across the US. The group, in partnership with Dr. Morse and her team, is working to develop a research program to define the health benefits and public health impact of exercise in the SCI population.
Mohamad Bydon, MD | Neurosurgeon & Medical Director of the Neurosurgical Registry, Mayo Clinic
Dr. Bydon gave us an update on the Phase 1 Clinical Trial published last year using Mesenchymal Stem Cells in 10 people with chronic SCI. The study involved injecting 100 million cells derived from the patient's own abdominal adipose tissue (fat cells) to mitigate immune response. The patients were then followed looking at a number of biomarkers to better understand the effects of the intervention and why it appeared to work in some but not in others. The working hypothesis is that these cells support spinal cord cells, reduce inflammation, increase blood flow and limit the formation of cysts. Bydon wants to better "delineate who will be a responder and why patients respond differently to stem cell injections". You might recall seeing this story on ABC's Good Morning America featuring one of the study's 'super responders', Chris Barr being interviewed by Will Reeve (son of Christopher Reeve). An important side note, this study was funded in part by the Minnesota SCI/TBI Research Grant Program. This program was passed into law by a passionate group of Minnesota SCI activists and was the kickstart to U2FP's Cure Advocacy Network.
Dr. Stephana Carelli | Researcher at the University of Milan  
Neurogel en Marche Association is an association of paralyzed people based in France. In 2004 the association bought the patent to a synthetic bio-material called Neurogel – the stuff was said to act as a substrate to help injured spinal cord cells recover and grow. A European clinical trial for chronic SCI had been planned for many years. Neurogel en Marche persisted, and in 2018 got a trial approved for 12 patients in China. They dropped Neurogel and opted for an activated fat cell compound; the spinal cord is surgically opened so glial scars and adhesions can be cleaned up. The fat cells fill the cavity. Early reports yet to be published indicate that there was some recovery. Dr. Carelli, a researcher at the University of Milan (working with a team called House of Miracles) was involved in the Neurogel en Marche trial. She gave a presentation on the preclinical work that led to the trial and an update from the trial itself.
These presentations are followed by a panel discussion, moderated by U2FP Board Member Christel Mitrovitch (who is also the Operations Director for Reneu Health, an Activity Based Exercise center in Southern California).
The segment ends with a short presentation by the phenomenal painter Richard Bell, along with a subsequent live interview he did with filmmaker Kelsey Peterson.
This "Artist Interlude" (as we called them) was part of a new effort we pioneered this year to bring artists into the conversation. can remind each other. The driving purpose was to more deeply connect the science of SCI Research with the soul of the SCI Community. It got great reviews from our attendees - we think you'll love it too!
We at U2FP are proud to make these videos available to the public for free. We also provide free access to all of our past symposiums, which total over 50 hours of presentations from a decade of recorded talks (you can scroll down on our Video Library page to access these). This on-going service is made possible by the generous support of our donors and symposium sponsors.
If you value these and other resources U2FP makes available to the SCI and Scientific Communities, consider making a donation in support of our work.