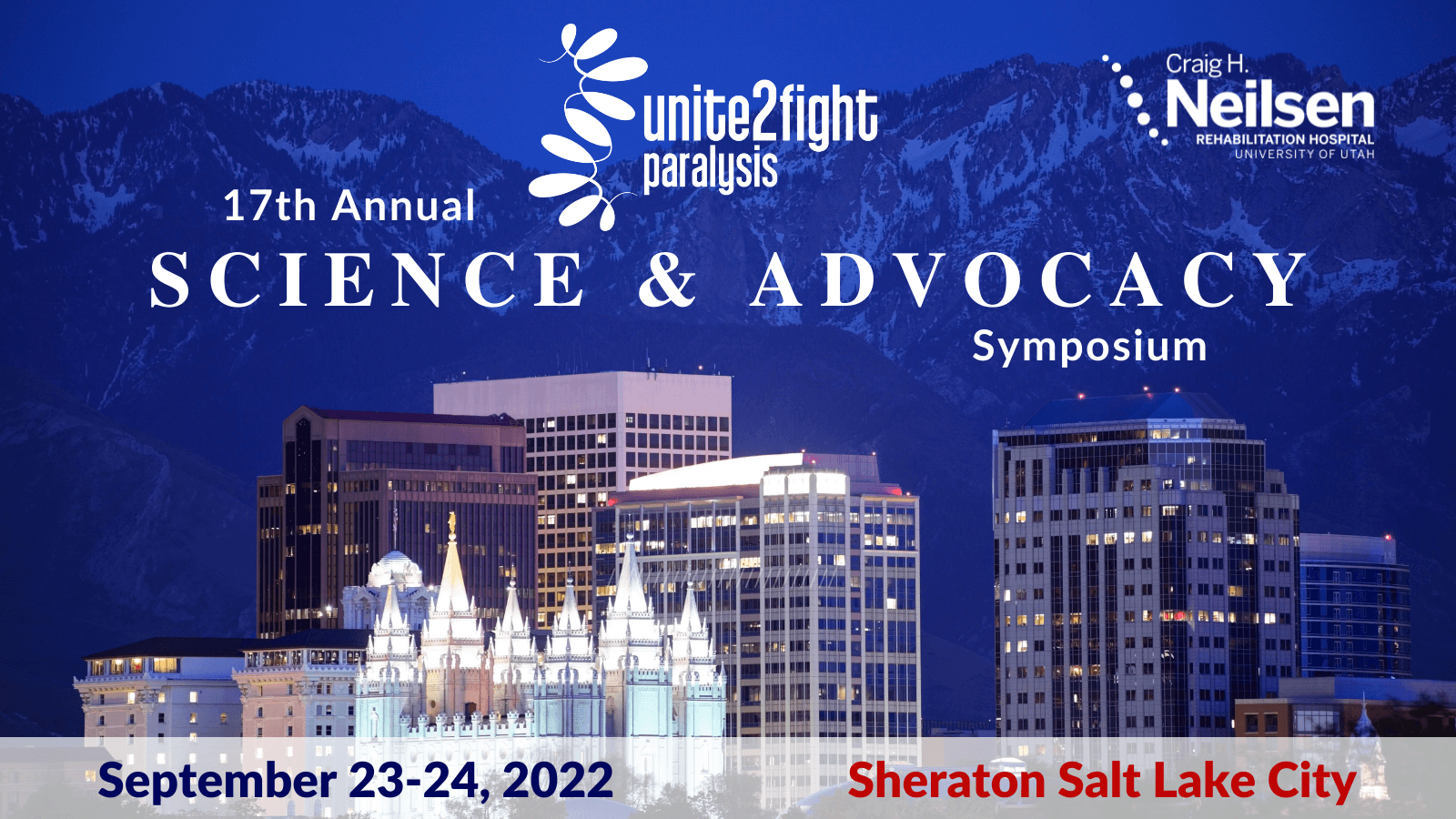 Preparations are in full swing for this year's 17th Annual Science & Advocacy Symposium! Get the latest details below, so you can start making plans for this one-of-a-kind gathering of the SCI and Scientific Communities.
Mark your calendars for September 23-24, 2022, in Salt Lake City, Utah. 
Speakers. This year's confirmed speakers include Spinal Stimulation researchers like Reggie Edgerton, Susan Harkema and David Darrow; Collaborative Projects from Jerry Silver, Monica Perez, and Candace Floyd; and out-of-the-box engineers like Samuel Stupp and Florian Solzbacher; along with Utah's premier SCI advocate Dale Hull, co-founder and Executive Director of Neuroworx.
 
Venue & Lodging. Our special group rate at the Sheraton Salt Lake City hotel is open and available for booking. Don't wait - reserve your room now!

Website. Be sure to check out the Symposium section of our website, and watch your inbox for our newsletter with the latest updates, such as Travel Grant opportunities, registration opening, early bird pricing and more!
 

Social Media. Follow and like our Facebook, Twitter, Instagram and LinkedIn pages to stay abreast of Symposium developments and details.

Finally, this year's Symposium wouldn't be happening without the tremendous support of our title sponsor, The Craig H. Nielsen Rehabilitation Hospital. 
We have a growing list of sponsors signing on to for this important gathering, including:
Craig H. Neilsen Foundation
Global Technology Services
Neuroworx
Christopher & Dana Reeve Foundation
Blackrock Neurotech
Craig Hospital
NervGen Pharma
InVivo Therapeutics
DP Clinical
Highlight your work and strengthen your brand in a stimulating environment that focuses on the SCI Community. Increase your market reach nationally and internationally, all while supporting a ground-breaking conference.
We're planning a dynamic agenda, and have some unique offerings in the works, so stay tuned!
PS - Remember that you can watch every session of last year's Symposium for free over on the Video Library section of our website. Check it out!