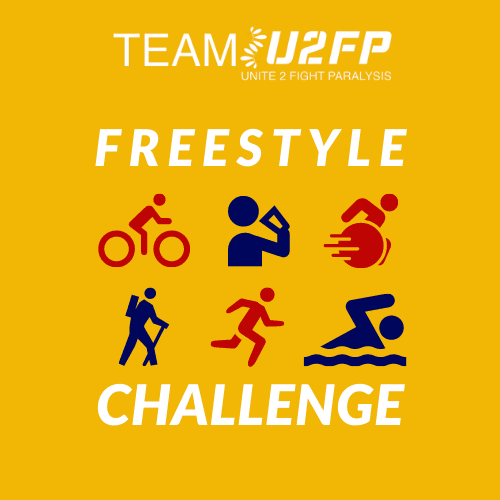 Registration is now open for Team U2FP's very own race event - the Freestyle Challenge! This is your chance to get super competitive and/or super creative, all while raising funds and awareness for SCI recovery.
Back in 2020, when the pandemic hit and regular marathons were canceled, we created a DIY race event, which we called the Run-Walk-Roll. 
Since then, participants have gone beyond running, walking or rolling; they've done things like paddleboarding, lake strolling, 5k-ing and 100-mile trail riding on an adaptive trike! So we had to re-brand. 
The Freestyle Challenge is your chance to challenge yourself physically, without boundaries or limitations, all for the SCI Community. You can make it as competitive or creative as you like!
This year's event is scheduled for the weekend of August 21 - 22, 2022. Choose the best day for you (Saturday or Sunday) and get moving for cures.
SIGN UP FOR THE FREESTYLE CHALLENGE
This is your chance to create the race you've always wanted to participate in. Consider options such as:
A run or roll through a fun, unique or challenging obstacle course
A 5K walk, run or wheel around your favorite park or lake
A 10K run or wheel from your place to a friend or family member's across town
A 10-mile race around the family farm
A 15-mile hike or trail run through a state or national park you love
A 20-mile race to get you ready for your next marathon
A marathon course you design yourself
An Ultra-Marathon through the Swiss Alps
A 5-bar pub crawl with your friends or family
A lawn mower 'race' - solo or with friends/family - on a fun course you design

Team U2FP's Freestyle Challenge is all about the attention you bring to the movement for spinal cord injury cures. Make your course as goofy as you like or use it as a training regimen for your next big marathon.
Like all other Team U2FP members, you'll receive:
A Personalized Fundraising Page
A Team U2FP Performance Shirt
A Fundraising Guide
There's only one rule: have fun! Your fundraising efforts help bring U2FP closer to our goal of achieving functional recovery for those of us living with an SCI.
Questions? Email marathon@u2fp.org