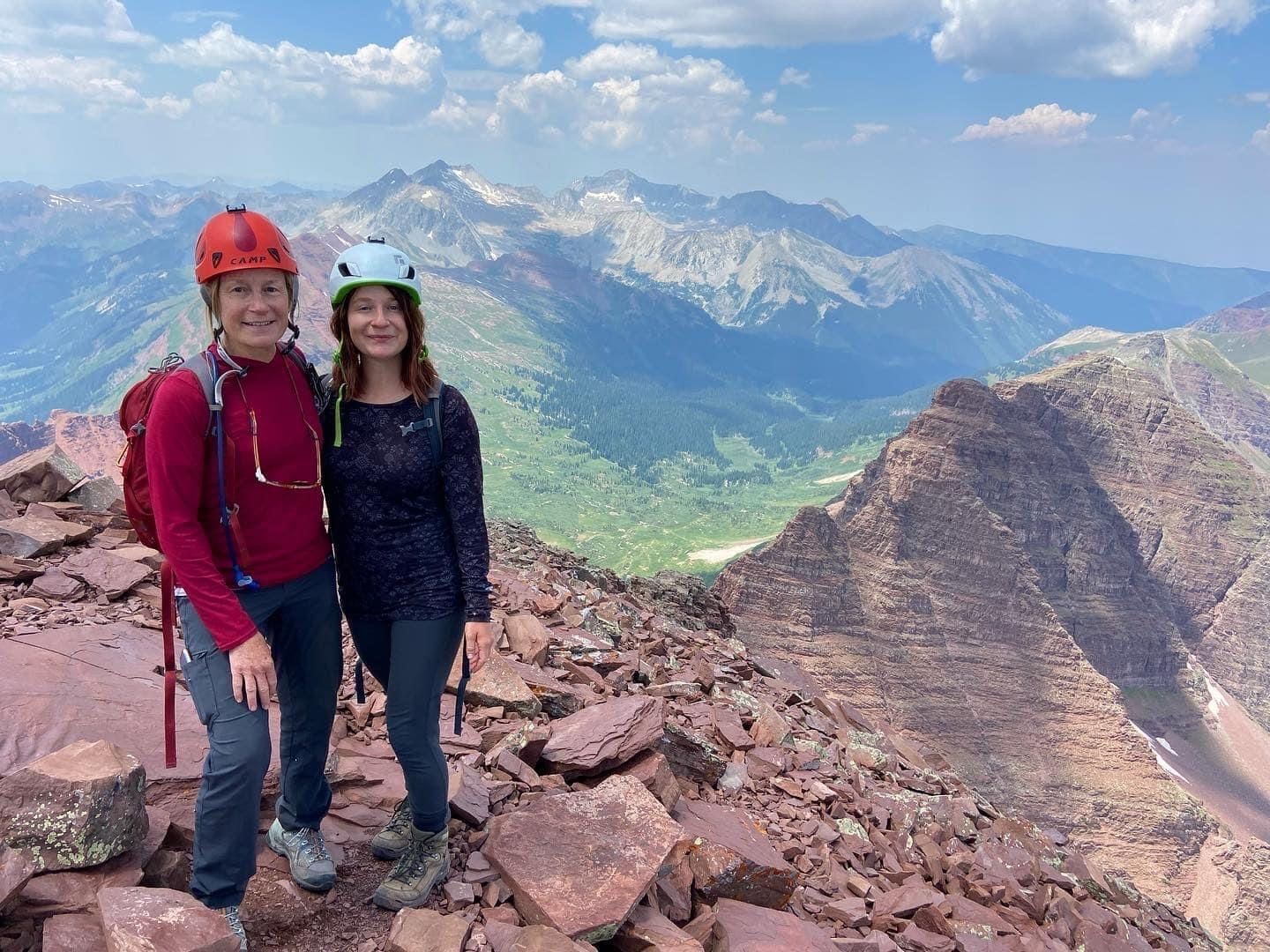 Team U2FP has launched its Freestyle Challenge, a race event you can customize to be as creative or challenging as you like! Today, I want to highlight Lorraine Schaeffer and Sarah Ashbaugh, a new pair of racers with an exciting goal.
Lorraine and Sarah have fully embraced the adventure aspect of the Freestyle Challenge, taking this unique race event to a new elevation: Mount Blanc in France/Switzerland! Read below to learn about this mother/daughter team and why they've decided to challenge themselves with this climb in support of cures for SCI.
We are a mother-daughter team and will have a guide to the summit of Mont Blanc. Afterwards we will hike Tour du Mont Blanc which is roughly 112.24 miles.

Mont Blanc - meaning "White Mountain" - is the highest mountain in the Alps and Western Europe, rising 15,777 feet above sea level. It is the second most prominent mountain in Europe, after Mount Elbrus, and it is the eleventh most prominent mountain summit in the world.

This will be a 6-day commitment of acclimatization and training, with a 2-day summit window. Roughly 16 miles round trip for the high alpine summit and 10,000+ vertical feet, not including training and acclimatization. We will start in the Chamonix Valley, hike up to Mer de Glacé for glacier training and head back down to the valley, then ascend up to stay in the Torino hut to gain altitude to assist in acclimatizing. After descending to the valley one last time and repacking for summit attempts, we will then ascend to the Gouter Hut. Weather permitting, we will then summit - yay!

Returning to the valley, we will enjoy one Zero Day to repack before heading off to start Tour du Mont Blanc (TMB). The TMB makes a complete circumnavigation of the entire Mont Blanc Massif, passing through France, Italy, and Switzerland. We will travel through a myriad of scenery and vantage points of MB, admiring the accomplishment of summiting along the way. This trek will take 10 days, passing through beautiful alpine villages and remote high mountain cols. We will be camping and carrying our own gear and food all but one day when we stop to stay in Courmayeur to stay at Auberge De la Maison. We have chosen some variants to the standard route for more scenic beauty. The trail concludes in Chamonix, where it all began.

On May 7th, 2022 we went to the viewing of An Accidental Life about Quinn Brett's recovery which inspired us to make our summit of Mont Blanc a fundraiser for U2FP. Sarah's uncle, Dan Ashbaugh, had a spinal cord injury as a teenager. His determination and positive attitude propelled him into competitive disabled skiing. He represented the United States at the 1988 Winter Paralympics in alpine skiing. He competed in three events and won three Gold Medals. It certainly did not come easy. There were many surgeries, PT, struggles fitting braces…and the endless list of things that he has to deal with on a daily basis.
Find out more about Lorraine and Sarah on their fundraising page, then consider supporting this outstanding effort by making a donation to their climb.
Inspired by their story? You can join them as members of Team U2FP for our Freestyle Challenge event. Choose any physical challenge that appeals to you and get moving for cures! This DIY race will take place over the weekend of August 20-21. The sky's the limit!
As a member of Team U2FP, you'll receive:
A Personalized Fundraising Page
A Team U2FP Performance Shirt
A Fundraising Guide
Invitations to Team U2FP Happy Hour events via zoom
Support along the way!
Consider pushing yourself to the next level while supporting the SCI community. 
Questions? Email us at marathon@u2fp.org