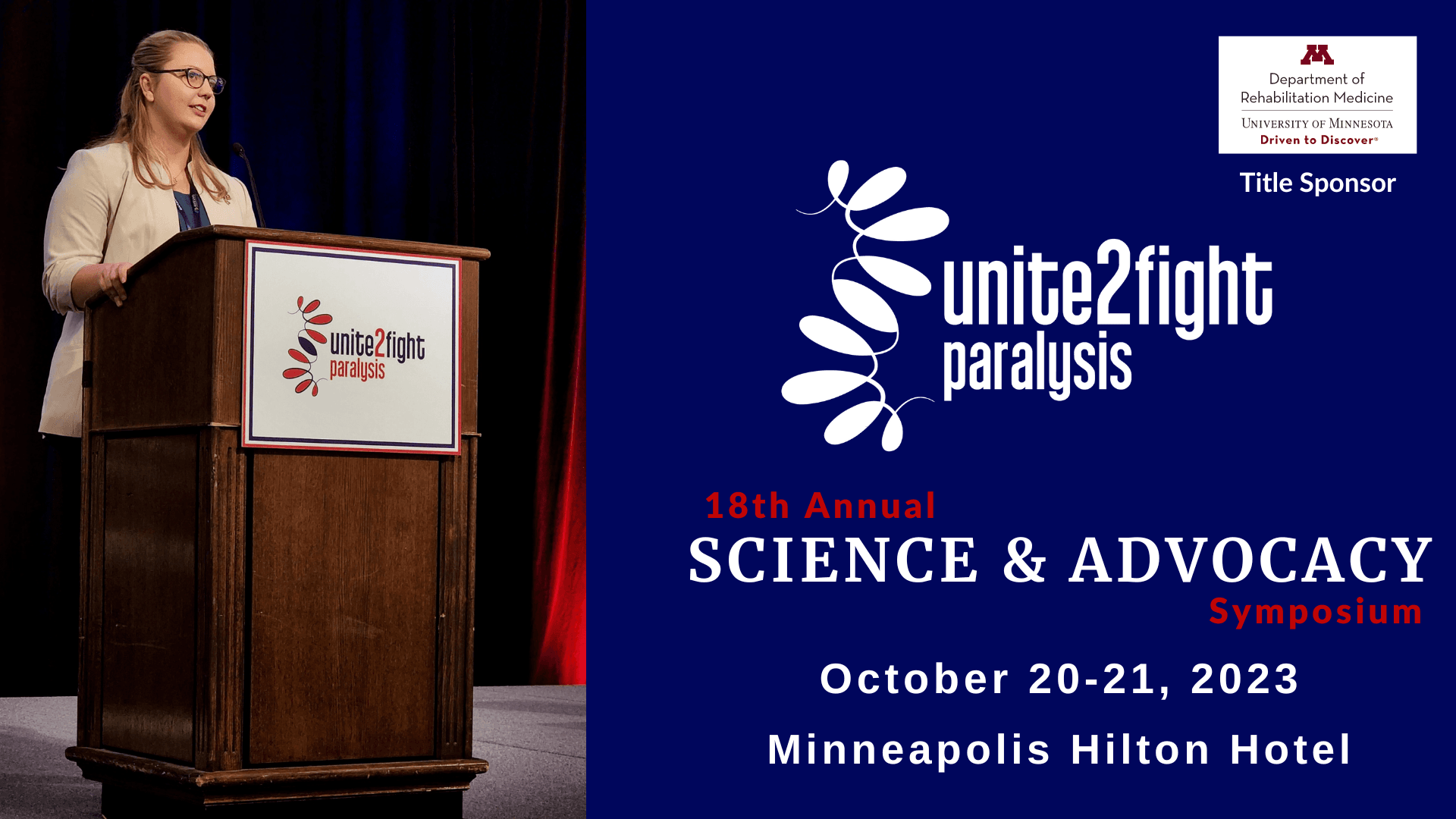 Valerie Dietz from the Dulin Lab at Texas A&M University Department of Biology, presenting last year at U2FP's Symposium in Salt Lake City. Click here to watch her presentation: Fighting for Recovery on Multiple Fronts: The Past, Present, and Future of Clinical Trials for Spinal Cord Injury.

At this year's 18th Annual Science & Advocacy Symposium our unofficial theme is going to be 'A Celebration of Advocacy'. I say 'unofficial' because I feel like we try to celebrate advocacy every year at our conference. This year, though, we want to be even more intentional about incorporating the advocacy experience - both its successes and challenges - into every conversation we facilitate.
With that in mind, take a look at our agenda and see how U2FP's Annual Symposium is shaping up. Registration opens soon and we've posted our agenda as well as new speakers and sponsors on our website.
Reminder: registration opens in two weeks on Friday, June 2, 2023.
Speakers
Check out our newly confirmed speakers and panelists who will join our esteemed roster of presenters from the regulatory, research, rehab and industry spheres of the SCI world:
Marco Baptista is the Chief Scientific Officer at the Christopher & Dana Reeve Foundation. He leads the Foundation's mission to advance cures for spinal cord injury and paralysis. He provides oversight of our research portfolio and a collaborative approach to accelerating the field toward meaningful treatments.

Peter Grahn is Assistant Professor of Neurosurgery and of Physical Medicine and Rehabilitation at the Mayo Clinic, as well as a member of U2FP's Scientific Advisory Board. His interest in spinal cord injury research began in 2005 after a swimming accident in northern Minnesota that resulted in quadriplegia.

Melissa Miller is the Health Science Program Manager at the United States Department of Defense. She is responsible for the successful execution of an annual congressional appropriation aimed towards treatment and rehabilitation regimes for people with spinal cord injuries.

Ryan Solinsky is a spinal cord injury medicine physician-scientist at Mayo Clinic in Rochester, MN. In addition to providing medical care for outpatients with SCI, a significant portion of his time is spent in research.

Jill Wecht is the Professor of Medicine and Rehabilitation Medicine at the Icahn School of Medicine, Mount Sinai. She has been studying the effects of de-centralized autonomic cardiovascular control on heart rate and blood pressure in persons with SCI since receiving her Doctorate of Education from Columbia University in 1999.
Venue & Lodging
Our special group rate at the Minneapolis Hilton hotel is open and available for booking. Don't wait - reserve your room now!
Social Media
Follow and like our Facebook, Twitter, Instagram and LinkedIn pages to stay abreast of Symposium developments and details.
Sponsors
This year's Symposium wouldn't be happening without the tremendous support of our title sponsor, The University of Minnesota Department of Rehabilitation Medicine!
And special thanks to our Networking Sponsor, Aneuvo, who you'll also be seeing and hearing from at this year's symposium.
Consider joining our growing list of sponsors below: Sponsor the Symposium
We're planning a dynamic agenda, and have some unique offerings in the works, so stay tuned.
Join us!

PS - We're gaining monthly donors and only need 23 more to hit our goal. Consider becoming a monthly donor today, and help us fuel the movement for functional recovery after spinal cord injury!