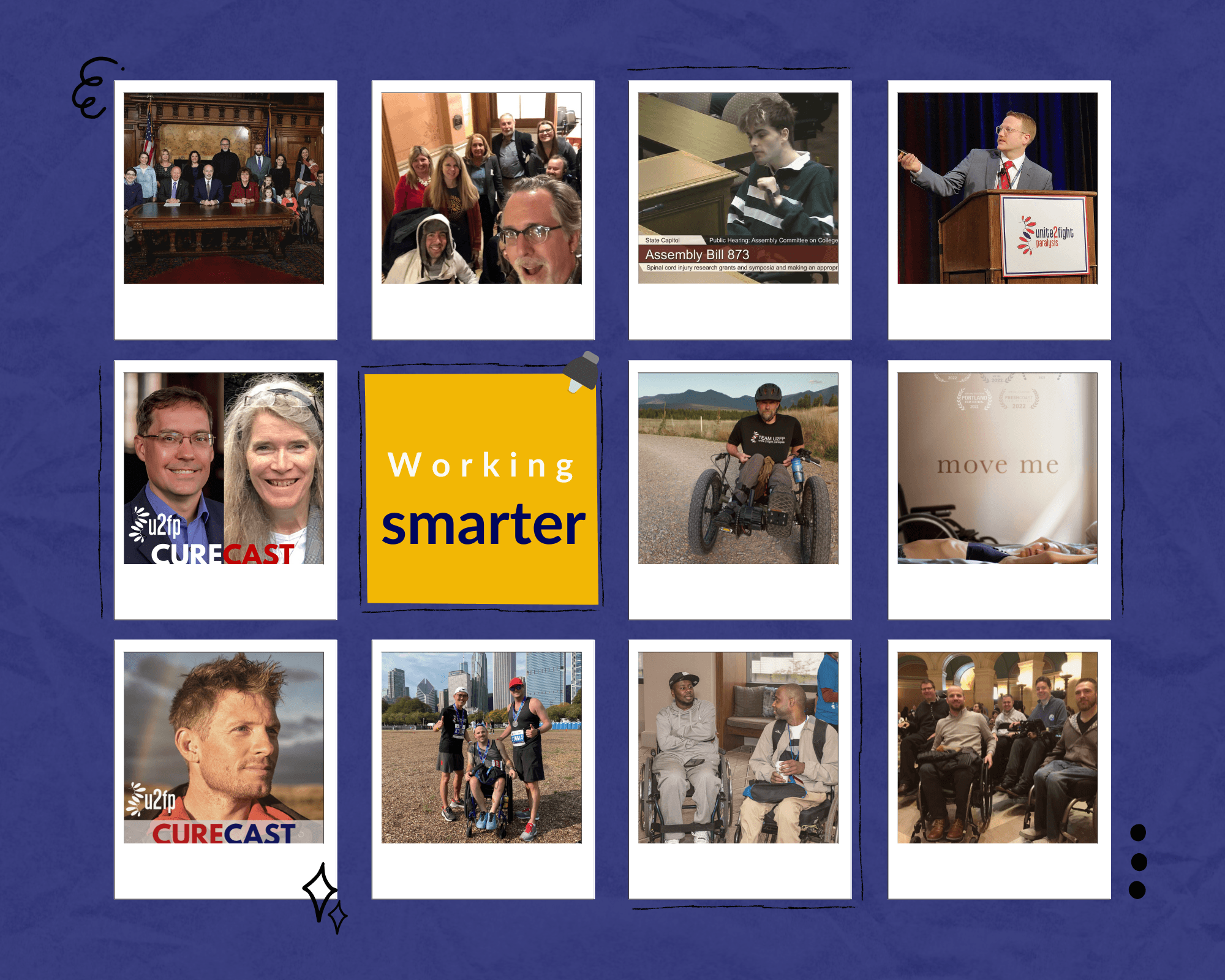 That phrase in the subject line - 'work smarter' - isn't our official vision, of course. And it doesn't come from me. It's actually an affectionate tag that one of our monthly donors, Chris Barr, uses to describe our work. (You might remember Chris for his 15 minutes of fame on Good Morning America a few years back). Chris and all of our donors - especially our monthly donors - are a big reason why U2FP is positioned so well these days. I wanted to take a moment and bring you up to speed on where U2FP has been, where we are now, and where we hope to go in the near future.

Back in 2017, when I started as Executive Director, U2FP was a solid organization, poised to build on our founders' vision and successes. We had a decade of SCI-centered Symposia under our belt; millions of dollars in foundation money evaluated and approved by our expert Scientific Advisory Board (SAB); and we were beginning to see the promise of a savvy spinal stimulation study (the EStand trial) that the SCI Community approved as part of the $6M Minnesota SCI Research Grant legislation U2FP helped to pass just two years earlier.
Our operating budget was just $248K that year. And yet, we generated millions of dollars in cure-centered education, research and activism from that couple hundred thousand. Not a bad return on investment!
But I'm the father of a quadriplegic. My son Gabriel has now been injured almost half his life. And the small, albeit significant, scientific gains U2FP has helped amplify and foster don't hold a candle to the barriers my son still faces on a daily basis. Which is why I've continued to be dissatisfied with the pace of discovery - and more importantly, translation of discovery. And since the majority of U2FP's board and staff is directly impacted by this injury as well, they share my sense of urgency.
Over the last five years, that urgency has inspired a more aggressive growth strategy. We decided that when an opportunity to innovate presented itself, U2FP would take action and trust that the funding would follow. That approach has yielded a number of impactful benchmarks, including:
Over $26M in legislative funding passed and allocated in four states (MN, WA, PA, OH) through SCI Research Grant bills our CAN members wrote and continue to oversee. (Another $3M research grant bill seems likely to pass in Wisconsin later this spring).

Lab Rats launched last year and now has 15 SCI consultants actively working in 9 research labs, closing the gap between lived experience and lab experience.

Our SAB has expanded and reimagined itself, forming three 'Think Tanks' facilitated by U2FP: Translation, Neuromodulation and Activity Based Therapy Network groups. These diverse, influential stakeholders (scientists, funders, industry, and advocates) are working to pragmatically streamline the discovery-to-recovery pipeline.

We've moved from just reviewing research proposals to creating them! We coordinated the funding and design of a combination research study using NervGen's peptide NVG-291 and epidural stimulation, to be tested on pigs later this year, an animal model that promises much higher clinical relevance than rodents.

U2FP's CureCast podcast now has over 56,000 plays and nearly 700 monthly subscribers. And we're still growing. Our active listener base includes cure pioneers like Bob Yant and is required listening in some of the top SCI graduate programs across the country.
This level of impact takes more money than what we had in 2017. Which is why, in 2019, we launched a monthly donor campaign to create a more sustainable revenue stream for these new and expanded initiatives. It worked. We added 35 new monthly donors (our goal) and were able to accomplish much of what appears in the list above as a direct result.
Our strategy (do what's necessary, 'work smarter', and the money will follow) appears to be working. This year, U2FP is projecting an operating revenue almost double that of 2017: $493K.
While we've grown our staff and expanded our board, I'm still the only full-time employee. And yet, look at the tens of millions of dollars in education, research and advocacy gains that we've produced, largely thanks to our monthly donors.
But as you might expect, I'm still dissatisfied. The systemic incentives driving industry, academia, government and funders are still out of alignment with what our community needs (functional recovery from the clinic + sustainable rehab) and when they need it (now!). The incentive structure is not isolated to one person, organization or institution; rather, it's a systemic problem that we must all work together to address.
At the heart of every U2FP initiative is this push for lasting, systems-level change. Everything we do works to correct a deficit in the cure research economy through strategic collaboration. We're here to unite all the stakeholders and help align their goals to accelerate therapies that will give our SCI Community functional recovery.
Which is why I want to turn Unite 2 Fight Paralysis into a million dollar organization.
Our work is producing real progress, as the above evidence demonstrates. But it needs to be scaled up and replicated, while continuing to deepen the quality of our services and reporting. Here are just several more goals I envision this expansion could foster in the next five years:
Increasing and leveraging our CAN legislative successes into a consortium that more deeply collaborates with model systems to support multi-center clinical trials
Placing (and paying) SCI Consultants in 25 SCI research labs in the US
Reaching 250,000 listeners on our CureCast podcast
Assisting in the translation of Spinal Cord Stimulation to the clinic
As you may have guessed, we're going to need more revenue to fuel this aggressive journey towards curative therapies. Which is why today, we're launching another monthly donor campaign to add 35 more monthly donors.

Our current roster of recurring donors have been the lifeblood of our growth. But we can only grow as far as our budget allows, and the majority of that money comes from you.
Invest in U2FP's growing movement to bring curative therapies to market for the SCI Community. We have monthly donors at the $5, $50 and $500 per month level - and we need every one of you.