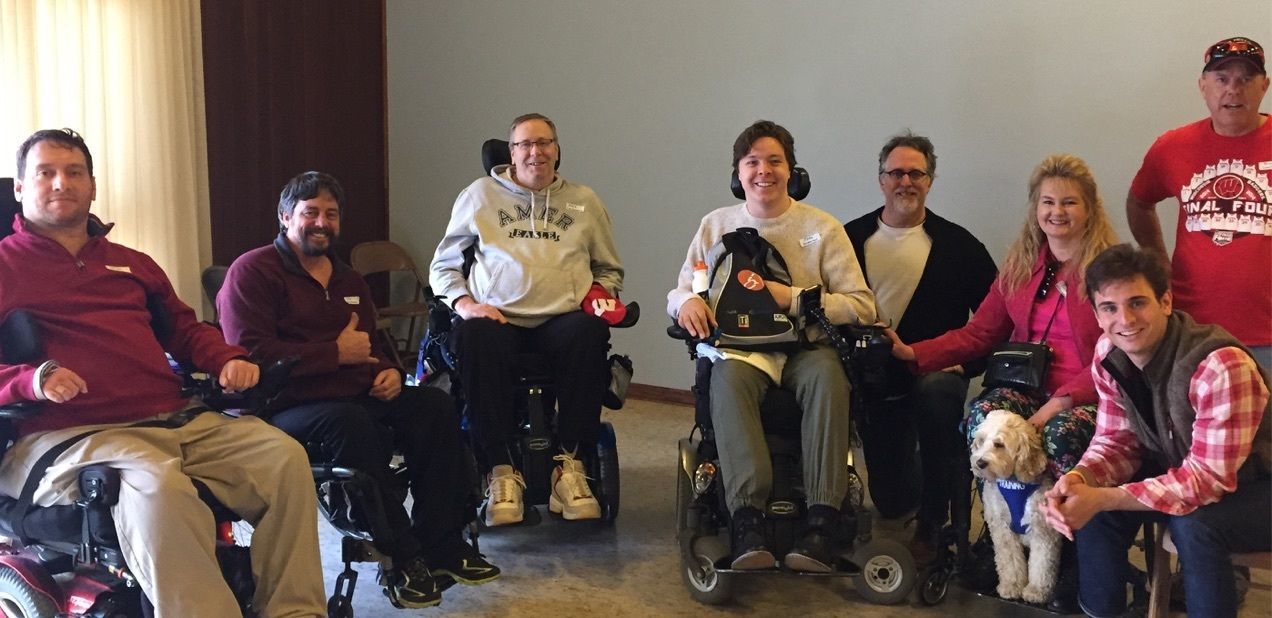 If you follow us on social media, you've probably seen a barrage of posts from us this week asking you to call Wisconsin legislators.
And maybe you're scratching your head thinking, "Wisconsin? I thought U2FP and a coalition of other SCI-led groups just saved their cure program in Minnesota from being defunded?"
Yeah, we did that too, thanks to your calls and a strong show of support from like-minded organizations. (We might have even added an extra $2M!)
But then - as if the universe was rewarding our collective effort - we learned that Wisconsin Governor Tony Evers included $3M for SCI Research funding into his proposed budget, thanks to our legislative champion, Rep. Jimmy Anderson.
Our CAN Manager, Jake Beckstrom, posted an update about this a couple weeks ago.
Now we're asking you to once again pick up the phone - no matter where you live - and contact these key legislators in Wisconsin:
JOINT FINANCE COMMITTEE MEMBERS
Rep. Mark Born (co-chair)
Sen. Howard Marklein (co-chair)
Sen. Duey Stroebel
Sen. Dale Kooyenga
Sen. Joan Ballweg
Rep. Jessie Rodriguez
SENATE COMMITTEE ON HEALTH
Sen. Patrick Testin (Chair), Pres. Pro Tempore

SENATE COMMITTEE ON UNIVERSITIES AND TECH COLLEGES
Sen. Roger Roth (Chair)
ASSEMBLY COMMITTEE ON HEALTH
Rep. Joe Sanfelippo (Chair)
ASSEMBLY COMMITTEE ON COLLEGES AND UNIVERSITIES
Rep. David Murphy (Chair)
When you call or write, just say this:
"Hi, my name is ____  ______, and I [have a spinal cord injury / am family/friend of someone with a spinal cord injury]. We need you to support the $3M funding for SCI Research in Governor Evers' proposed budget. This is a smart, efficient investment that would: 

Keep the funds in Wisconsin
Allow SCI Community members like me to help decide what research gets funded 
Cap indirect costs at 8% (ie no bloated admin costs)

This model of funding has worked well in Minnesota, Pennsylvania, Ohio and Washington state by getting research out of the lab and into people. Please keep this important piece of funding in the final budget. Thank you!"
To get daily reminders on who to call, like or follow us on Facebook, Twitter & Instagram. Or just use the above list and call or email a different legislator each day.
Our Wisconsin CAN activists have been working hard to make this moment happen for several years now. Help push us over the finish line towards another victory for curative interventions, this time in Wisconsin!
Join us!
PS - Advocacy work is painstakingly slow, and requires lots of time and patience. If you appreciate what U2FP is doing to drive innovative, curative treatments for the SCI Community, consider making a donation to us, or better yet, becoming a monthly donor. The victories we've seen in Minnesota, Washington, Pennsylvania, Ohio - and now possibly Wisconsin - are because of supporters like you - thank you!